#Vault7: US will use 'full force of law' if WikiLeaks dump contains factual info, Pence warns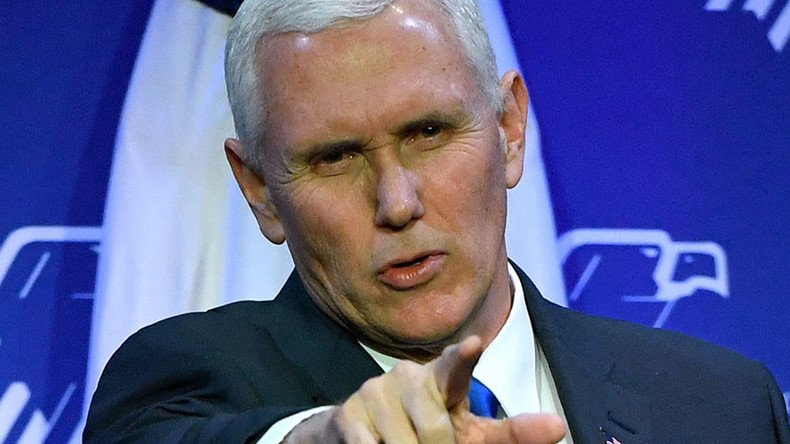 The US will use the "full force of the law" to go after those behind the latest WikiLeaks release if its contents are found to be valid CIA documents, Vice-President Mike Pence has warned.
"Trafficking in national security information, as is alleged WikiLeaks has done here, is a very serious offense," Pence told Fox News on Thursday.
"It represents a compromise of the security of the American people," he added.
READ MORE: WikiLeaks will give tech companies exclusive access to CIA #Vault7 hacking tools - Assange (VIDEO)
Pence went on to state that President Donald Trump will take the offense "very seriously" and "use the full force of the law and resources of the United States to hold all of those to account that were involved."
He said that "no resource will be spared" in holding the guilty parties to account, if the so-called 'Vault 7' is proven to contain legitimate information into the inner-workings of the CIA.
Released by WikiLeaks on Tuesday, Vault 7 includes 8,761 documents which allegedly reveal the CIA's extensive hacking capabilities.
The release includes descriptions of hacking tools, engineering notes, internal communications, and the redacted names of agents.
It reportedly exposes details of the CIA's "global covert hacking program," including "weaponized exploits" used against company products including "Apple's iPhone, Google's Android and Microsoft's Windows and even Samsung TVs, which are turned into covert microphones."
WikiLeaks says the first installment includes just one percent of the documents due to be published, promising that more is on the way.
READ MORE: 'No such thing as absolute privacy in America' – FBI Director Comey
The FBI and CIA said they will collaborate on a joint probe of Vault 7's release, investigating how WikiLeaks obtained the materials and whether they came from an employee or contractor.
Meanwhile, the CIA refused to comment on the authenticity of WikiLeaks' documents in its Wednesday statement. The agency said that it was their mission to "aggressively collect foreign intelligence overseas to protect America," but it was not "conducting electronic surveillance targeting individuals here at home."
"The American public should be deeply troubled by any WikiLeaks disclosure designed to damage the Intelligence Community's ability to protect America against terrorists and other adversaries," it continued.
You can share this story on social media: