'No such thing as absolute privacy in America' – FBI Director Comey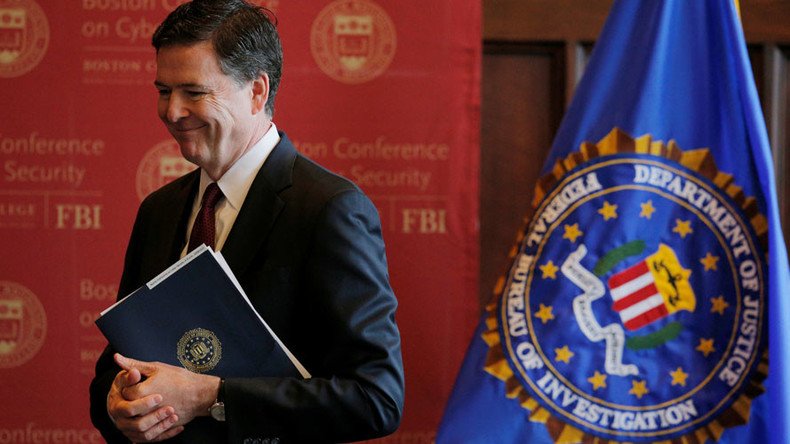 FBI Director James Comey has warned that absolute privacy does not exist in the US, noting that a judge can compel anyone to testify about their communications – and even their memories.
"There is no such thing as absolute privacy in America," Comey told a cybersecurity conference in Boston on Wednesday, while speaking about the rise of encryption since whistleblower Edward Snowden revealed National Security Agency (NSA) spy practices in 2013.
"There is no place in America outside of judicial reach," he added.
"Even our communications with our spouses, with our clergy members, with our attorneys are not absolutely private in America," Comey said. "In appropriate circumstances, a judge can compel anyone of us to testify in court about those very private communications."
He went on to state that although Americans have a "reasonable expectation" of privacy in their homes, cars, and on their devices, the government can still "invade our private spaces."
"Even our memories aren't private. Any of us can be compelled to say what we saw...," Comey said.
Despite downplaying the existence of "absolute privacy" in America, Comey went on to assure those at the conference that the government cannot invade a person's privacy without "good reason," adding that it is a "vital part of being American."
The FBI director shared figures from the last four months of 2016, in which the bureau had lawfully invaded the privacy of Americans, or at least tried to. He noted that 2,800 devices were recovered in criminal, terrorism, and counterintelligence investigations over that period, stating the FBI was unable to open 43 percent of them.
Comey's statements come shortly after the release of 'Vault 7' by WikiLeaks, which reportedly reveals the CIA's extensive hacking abilities.
The whistleblowing site has stated that more documents will soon be released, noting that only 1 percent were included in the first installment of Vault 7.
The US has opened a federal criminal investigation into the WikiLeaks publication, with the FBI and CIA coordinating their reviews.
Comey's statements also follow President Trump's claims that his predecessor Barack Obama ordered the wiretapping of his phones in Trump Tower ahead of his election victory – a claim which Comey has urged the Justice Department to refute, as it falsely insinuates the FBI broke the law, according to officials cited by the New York Times.
Comey did not address the WikiLeaks publication or Trump's claims during his Wednesday speech.
You can share this story on social media: