Treasury urges Congress to raise US debt limit to avoid default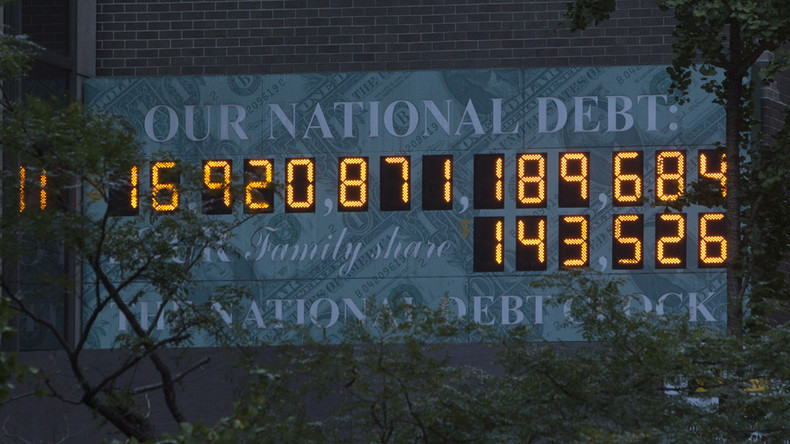 The US national debt will reach a statutory limit next week, forcing the Treasury to halt sales of certain securities and rely on "extraordinary measures" to continue paying government bills until Congress can raise or suspend the limit this fall.
The 2015 law that suspended the debt ceiling will expire at midnight on March 15, at which point the US national debt will be just over $20 trillion.
"Treasury anticipates that it will need to start taking certain extraordinary measures in order to temporarily prevent the United States from defaulting on its obligations," Secretary Steven Mnuchin wrote to Congress in a letter dated March 8 and made public on Thursday.
One of those measures would be suspending the sale of state and local government series (SLGS) securities "until the debt limit is either raised or suspended," Mnuchin wrote.
"I encourage Congress to raise the debt limit at the first opportunity," he added.

The Treasury Department will "most likely be able to continue borrowing and have sufficient cash to make its usual payments until sometime in the fall of this year without an increase in the debt limit, though an earlier or later date is possible," according to a report by the Congressional Budget Office, quoted by The Hill.
Trump's director of Office of Management and Budget, Mick Mulvaney, said last month that the administration planned to use extraordinary measures as long as possible and "deal with" the debt limit before Congress goes on recess in August.
"The government will not default," Senate Majority Leader Mitch McConnell (R-Kentucky) told Politico on Thursday.
Critics of President Donald Trump were quick to point out that he has harshly criticized the previous administration's debt increases, with pro-Democratic website ThinkProgress accusing the president of "breathtaking hypocrisy."
Trump campaigned on the promise to sort out the "mess" of US finances and "do a lot more with less," but has announced plans for a massive military build-up and an overhaul of healthcare, which critics say will only increase the deficit.
The US national debt decreased by about $34 billion in the first five weeks of the Trump administration, after increasing by $9 trillion during the eight years of Barack Obama's presidency, Treasury reported.