Reds under every bed: US generals, senators talk Russia at ISIS hearing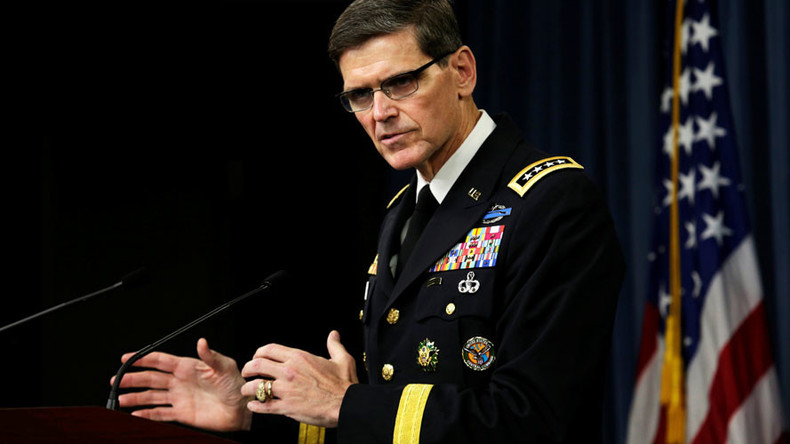 Heads of the combat commands in the Middle East and Africa briefed the Senate about US operations against Islamic State terrorists, but the hearing kept coming around to claims of malign influence and even imperial ambitions by Russia and Iran.
"We are not currently coordinating or cooperating with the Russians; we are simply de-conflicting our air operations," General Joseph Votel, head of the US Central Command (CENTCOM) told the Senate Armed Services Committee on Thursday, contradicting reports that Russia and the US-led coalition were coordinating their operations in Syria against Islamic State (IS, formerly ISIS/ISIL).
Russia's 2015 intervention in Syria has "negatively impacted the regional balance of power," while "Iran has expanded cooperation with Russia in Syria in ways that threaten US interests in the region," Votel said.
He told Sen. Tom Cotton (R-Arkansas) that Russia is "attempting to increase their influence throughout the Middle East," and has "certainly been successful in supporting the Assad regime," referring to the government of Syria.
Votel also cited Russian presence as a concern for the US in Central Asian countries such as Kazakhstan, Kyrgyzstan, Tajikistan and Turkmenistan, which were formerly part of the Soviet Union.
Iran "aspires to be a regional hegemon and its forces and proxies oppose US interests in Iraq, Yemen, Lebanon, Gaza and Syria, and seek to hinder achievement of US objectives in Afghanistan and some Central Asian States," Votel said.
When Sen. Richard Blumenthal (D-Connecticut) tried to insinuate Russia was "aiding and abetting the Iranians" in general, Votel clarified that he was specifically referring to Syria.
Sen. Claire McCaskill (D-Missouri) asked about the Russian sale of attack helicopters to Nigeria, which she called a threat to US national security.
Gen. Thomas Waldhauser, head of Africa Command (AFRICOM), explained that many African countries chose to buy hardware from Russia, China or other countries because they "don't have a lot of strings attached." The US was holding up the helicopter deal with Nigeria over human rights concerns. Waldhauser also accused Russia of wanting to influence the government in Libya.
Sen. Jeanne Shaheen (D-New Hampshire) asked about Russian efforts to destabilize and undermine Afghanistan – alleged by the US commander in the country and Afghan officials – and if US activities in Eastern Europe might divert Moscow's attention. Russia has denied accusations of political support for the Taliban, insisting that its diplomatic efforts aim to help encourage Taliban officials to accept peace talks with the Afghan government.
"From my perspective, I'd like them totally focused on Eastern Europe and not on Afghanistan," Votel replied. "If their attention can be drawn to other challenges… that helps us."
Votel also confirmed that US Marines and artillery were deployed near the IS stronghold of Raqqa, describing them as "redundant capable fire support on the ground," and shrugged off reports of US military presence in of Manbij, saying it was "nothing new" and that US troops have been there since the northern Syrian city was liberated in August 2016.
Earlier this week, US-allied Kurdish-led forces said the troop deployment was a response to "Turkish threats to occupy the city."
Describing Turkey as an important NATO ally and member of the anti-IS coalition, Votel acknowledged that "some Turkish activities and rhetoric… have the potential to impact campaign momentum," noting that Turkish-backed forces have clashed with US-allied Syrian Democratic Forces in northern Syria.
"We're trying to work with an indigenous force that has tensions with a NATO ally," he said. "That's not an easy situation to move through."
The CENTCOM chief also referred to a program of training and equipping the "Vetted Syria Opposition (VSO) forces," which the Pentagon was supposed to have abandoned following a 2015 fiasco, as key to "setting the ultimate conditions for a negotiated settlement to end the conflict."
"Our revised training approach is proving successful, improving the effectiveness and lethality of the force on path to a projected strength of up to 35,000 by the end of fiscal year 2017 and growing to 40,000 in 2018," Votel said in his prepared remarks.
Sen. Lindsey Graham (R-South Carolina) argued it was not in the US national interest for Syria "to be handed to Assad, a proxy for Iran," to the agreement of both generals.
The hearing also touched on the recent US commando raid in Yemen, US aid to Saudi Arabia, the need to send more US troops to Afghanistan to prop up the government forces against the Taliban, and the wisdom of antagonizing Muslims when US strategy against IS relied heavily on "indigenous forces."