Re-escalation in Afghanistan: Top US general calls for 'a few thousand' more troops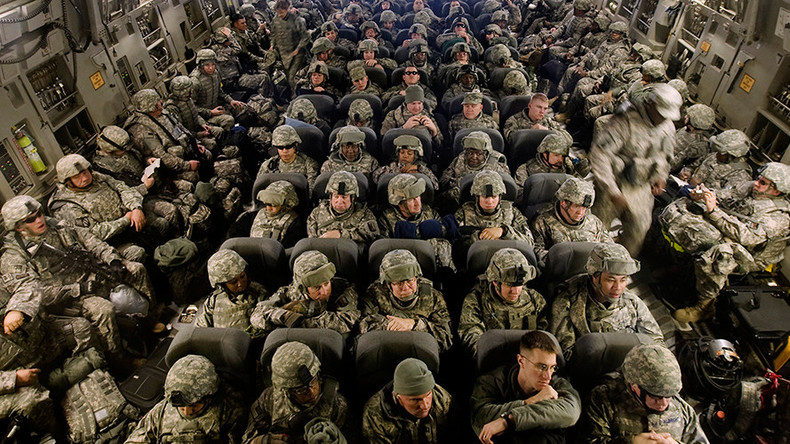 After 15 years, much bloodshed and hundreds of billions of dollars spent, the US should re-escalate its troop level in Afghanistan, a top US military commander says, to properly train Afghan troops amid ongoing advances of insurgent fighters.
Calling the situation in Afghanistan a "stalemate," Army General John Nicholson told the US Senate Armed Services Committee that while he has enough troops for counterterrorism operations against the likes of the Taliban, Al Qaeda and Islamic State fighters, he would like several thousand more in order to boost capabilities of Afghan security forces. Nicholson said any troop injections could come from the US military or NATO nations.
"I have adequate resources in my counterterrorism mission," Nicholson said Thursday, according to reports. "In my train, advise and assist mission, however, we have a shortfall of a few thousand. This is in the NATO train, advise and assist mission, so it can come from America or its allies."
About 8,400 US troops and about 6,400 NATO soldiers remain in Afghanistan following the large-scale NATO troop reduction there in 2014. US-led forces entered Afghanistan to remove Taliban control more than 15 years ago following the attacks on the US of September 11, 2001.
Counterterror missions can be conducted with temporary support from US troops stationed in other nations, he said, according to The Hill.
"When we need to do additional operations, we can surge assets into the country," Nicholson told the committee. He added: "This has proven to be a successful tactic."
Gen. N: The 17,000-strong #AFG Special Forces are the best in the region. They operate independently on roughly 80% of their missions.

— Resolute Support (@ResoluteSupport) February 9, 2017
To break the current "stalemate," however, would require an increase in troops stationed in Afghanistan in order to adequately train Afghan forces, he said. He also specifically called for increased funding for Afghanistan's air force.
"This investment which we are requesting the Afghan air force will help them, as you mentioned, to take over responsibility for their own close air support," he said. "And even more importantly, this then will to an offensive capability that allows them to overmatch the Taliban or any other group on the battlefield anywhere around the country."
The US has spent well more than $750 billion in Afghanistan since 2001, according to the National Priorities Project.
More than 5,500 Afghan troops were killed during the first eight months of 2016, according to Reuters, which added that Afghan security forces control at most two-thirds of the country. From the beginning of the war in Afghanistan through the end of 2014, about 22,000 Afghan police officers and soldiers died, according to Neta Crawford, co-director of the Costs of War Project.
Nicholson also recommended a "holistic review" of the US relationship with Pakistan, where militant groups such as the Haqqani network have found refuge in the nation's Federally Administered Tribal Areas along the southeastern border of Afghanistan.
From 2001 to mid-2016, 173,000 civilians in Afghanistan and Pakistan have died amid the American-led war, according to the Costs of War Project. More than 183,000 civilians have been seriously wounded in that time.
More than 3,500 coalition troops have died fighting in the Afghanistan war, according to iCasualties.org.
Russia supporting Taliban, general says
During his committee testimony, Nicholson also said Russia has sought to undercut the NATO mission in Afghanistan by acting to "legitimize and support" the Taliban. Afghan officials have alleged that Russia has provided political support, at least, to Taliban insurgents.
Russian officials have denied offering any aid to insurgents, insisting that its efforts aim to help encourage Taliban officials to accept peace talks with the Afghan government. Taliban leaders have refused to engage in such talks while foreign forces remain in the country.
In an interview with Russia's TASS news agency published on Thursday, a Russian foreign ministry official said Moscow would like to renew cooperative efforts with NATO in Afghanistan. Zamir Kabulov said increased insurgent activity in Afghanistan warrants no further US troop withdrawal from the nation.
"The situation with security in this country is deteriorating, while Afghan national security forces are unable to stand against armed opposition due to a number of reasons," Kabulov said.
NATO continues to move supplies through Russia that are intended for use in Afghanistan.
You can share this story on social media: