Multiple arrests at New York's 'Day without Women' protest
Published time: 8 Mar, 2017 22:07
Edited time: 9 Mar, 2017 09:26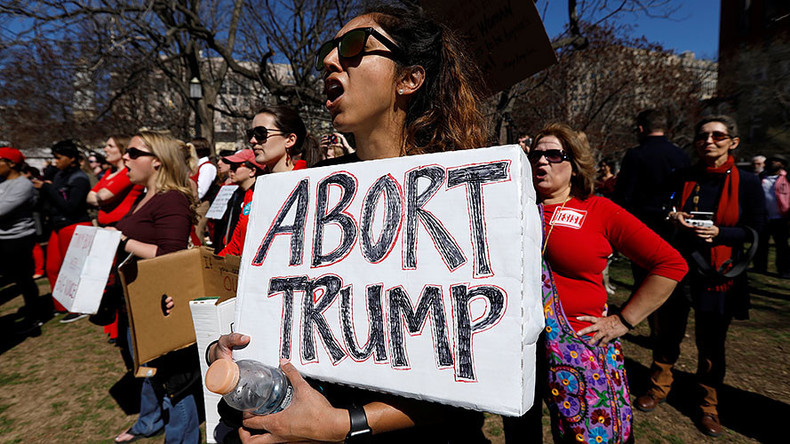 Police have made multiple arrests at the 'Day Without Women' protest in New York, where 400 people gathered to mark International Working Women's Day and picketed Trump International Hotel.
A crowed of roughly 75 percent women, many dressed in red, rallied outside Central Park and 59th Street before marching to Columbus Circle and rallying near the Trump International Hotel on Wednesday.
Police gave orders for the crowd to disperse but a handful of protesters engaged in civil disobedience and were arrested.
Among those detained were lead organizers of the Women's March on Washington, including activists Linda Sarsour, Tamika Mallory, and Carmen Perez.
The NYPD could not immediately confirm how many people were arrested, or their charges, according to Gothamist.
Shortly after the arrests, police used a LRAD sound cannon to announce that pedestrians are prohibited from blocking the sidewalk or walking in the street.
Organizers had urged women and their allies to refrain from paid and unpaid labor if possible and avoid spending money.
"It think [striking from work] is a good way to show the impact of women at work," Rosemary Cipriano, who works in advertising for Broadway shows, told Gothamist. "A lot of people take it for granted how many women are in their workplace, especially in media."
"I was lucky enough that our CEO was very supportive of all of the women leaving," she added. "I took a personal day, and that's a privilege a lot of people don't have. I totally feel that and understand that, and that's why I'm obligated to come and speak out and march and do what I can."
Elsewhere in New York, someone has put up posters with some of the comments President Donald Trump has made about women.