HyperLoop One reveals sneak peek of 'train of the future' test (PHOTOS)
Published time: 8 Mar, 2017 02:49
Edited time: 8 Mar, 2017 14:03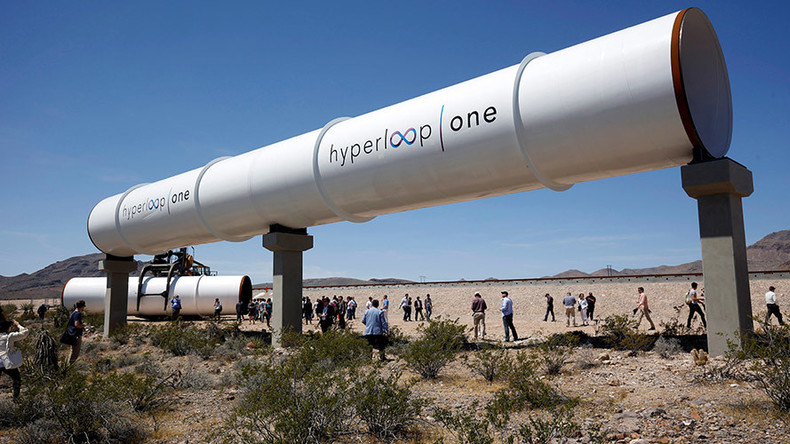 The first images of the Hyperloop One test track were shown off during the Middle East Rail conference, demonstrating progress on the high-speed transport system that promises to be faster than air travel.
Hyperloop One CEO Rob Lloyd unveiled never-before-seen images of the 'DevLoop' development site, in Las Vegas, during the 11th annual Middle East Rail conference in Dubai on Tuesday.
The images show an aerial view of the construction of the world's first full-system Hyperloop test site, with a test track of 500 meters or about one-third of a mile long and 11 feet wide.
The Los Angeles startup, Hyperloop One, has designed a near supersonic transport system that uses levitating pods that travel through a low-pressure tube at speeds up to 760 miles per hour. The goal is to make a test track during the first half of 2017.
READ MORE: $50mn closer: Hyperloop One gets investment from its Dubai backer, hires ex-Google treasurer
The company hopes to revolutionize transportation in the Middle East, and promises to shorten the trip from Dubai to Abu Dhabi to just 12 minutes, a journey that currently takes around 90 minutes.
According to a statement from the startup, the propulsion system would have higher safety standards than a passenger jet, with half the construction cost and lower maintenance cost than high-speed rail, along with "energy usage that is similar to a bicycle per kilogram-kilometre."
The company plans to perform its first public trial during the first half of 2017 and says it is planning to have at least one system capable of human transportation by 2021.
"While technology is revolutionizing many facets of our lives, we have not seen a radical change in transportation since the Wright brothers introduced air travel over 100 years ago," Lloyd said in the statement.
The company said that its progress at the test site shows how quickly it can bring the innovative system to the rest of the world.
"Our team of more than 150 engineers, technicians and fabricators have been transforming what was, just over five months ago, a barren stretch of desert, into a hive of activity and now home to the world's first full-scale Hyperloop test site," Josh Giegel, president of engineering and co-founder of Hyperloop One, said during the presentation in Dubai.
For its first move, Hyperloop One is looking to implement their transportation in the Gulf Cooperation Council (GCC), where they made a deal with the Dubai Roads and Transport Authority in November.
According to Lloyd, the design would "vastly impact the economy and make any major city in the GCC accessible within one hour."
The idea of the Hyperloop was first proposed by billionaire Elon Musk in 2013, when he drew up plans for a futuristic transit system that would allow people to travel from Los Angeles to San Francisco in 30 minutes.
In January, SpaceX announced it was holding a competition with Hyperloop One to find the best design for pods to transport humans through the vacuum tubes.
SpaceX has constructed a mile-long test track beside its Hawthorne headquarters for the competition, which will not be finalized until this summer.
In February, Hyperloop One also began talks with the Indian government about implementing the system in the world's second-most populated country.
Hyperloop One is the only company currently building a functional Hyperloop system, according to its statement.