Pipe dream or future of transport? Hyperloop One plans epic tube network (VIDEO)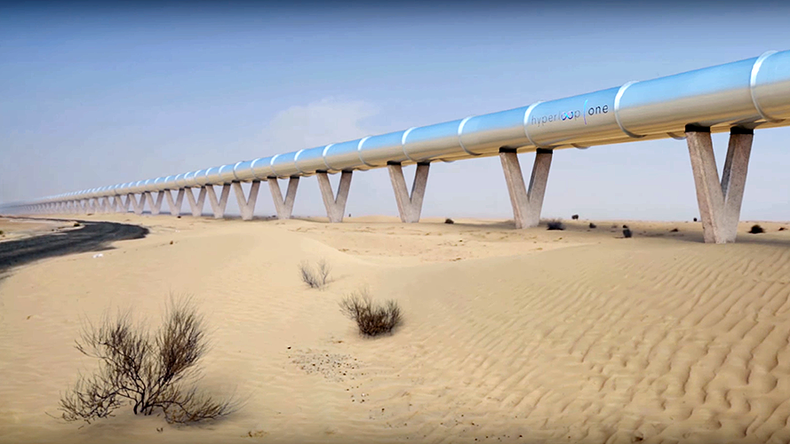 A high-speed 'hyperloop' system to transport passengers to their destination at speeds greater than a passenger jet may have found its first home in the United Arab Emirates.
Hyperloop One, a company working to bring the futuristic transport mode a reality, has signed an agreement with the Dubai Roads and Transport Authority to explore potential routes in the oil-rich nation.
It could herald in a new dawn for public transport, allowing people to travel at speeds never before imagined.
The Futurama-like people carrier received widespread attention in 2013, when Elon Musk put forward his ideas for the new ground transport system that would see specially-designed capsules carry passengers on a cushion of air through a network of tubes at about 760 mph (1,223kph).
READ MORE: Hyperloop's 1st-ever track test a success in Las Vegas (VIDEO)

While still in its development stage, the Hyperloop One, is expected to have the ability to reach speeds of up to 745 mph - faster than a Boeing 747 passenger plane.
The proposed route from Dubai to Abu Dhabi could see travelers making the normally two-hour trip in under 12 minutes.
Hyperloop One provided its vision for the emirate nation in a presentation attended by Saif Al Aleeli, head of the venture capital fund the Dubai Future Foundation, at the Burj Khalifa on Tuesday.
A video forecast for the enormous and complex network reveals the project would be split between self-driving cars - dubbed 'Hyperpods' - and a long-haul coach traveling through a pneumatic tunnel.
A feasibility study is currently underway as the United Arab Emirates government moves towards making 25% of all public transport driverless.
"Dubai makes perfect sense for Hyperloop One because this is the 21st century's global transport hub and its leaders understand that Hyperloop one is ushering in the next era of transportation," said co-founder of the project, Shervin Pishevar.
Design concepts for the electric powered transporter show a large station known as a Hyperportal located near the towering Burj Khalifa.
A control center will monitor the activity of each moving pod, which can double as meeting rooms or lounges.
READ MORE: $50mn closer: Hyperloop One gets investment from its Dubai backer, hires ex-Google treasurer

In May, Hyperloop One conducted its first ever propulsion open air test in the Las Vegas desert along a half-mile track.
The test was declared as a "significant moment" for the company by Pishevar, who hopes the high speed network can serve commuters for the price of a bus ticket.
Last month Hyperloop One announced $50 million in additional financing and welcomed former Uber CFO Brent Callinicos onboard as a strategic adviser.
You can share this story on social media: