Tornadoes hit Kansas City, hundreds of homes damaged (PHOTOS)
Published time: 7 Mar, 2017 18:21
Edited time: 8 Mar, 2017 10:57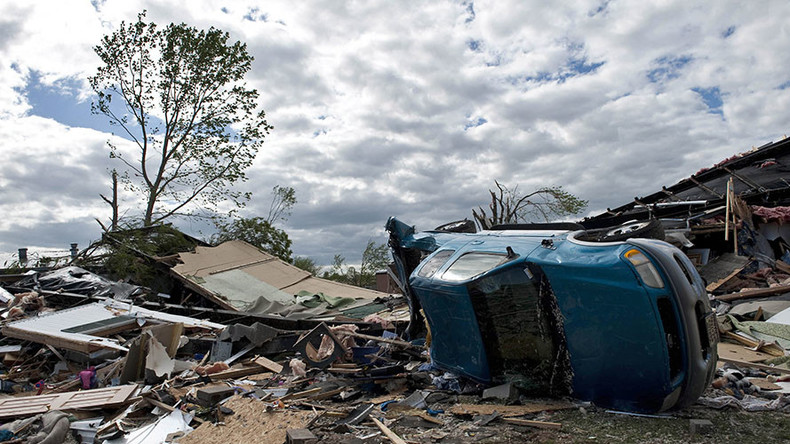 At least two tornadoes touched down in Missouri, accompanied by severe storms and areas of large hail that moved east from the Kansas City metro region. No fatalities were reported, and thousands were left without power.
Hundreds of homes and commercial buildings were damaged by tornadoes that pushed through the Kansas City area Monday night, leaving extensive damage and dozens of injuries in eastern Kansas and western Missouri, but no fatalities, according to reports.
Unconfirmed tornado reports were also made to the National Weather Service in Iowa and Illinois.
Missouri towns hit the hardest by severe weather were Oak Grove and Smithville, east and north of Kansas City, respectively. The Kansas suburbs of Leawood and Olathe also received significant damage, AP reported, including at the Johnson County Executive Airport.
Kansas City Power & Light reported as many as 130,000 customers were without power at one point late Monday, according to the Kansas City Star. Nearly 9,000 were still without power as of 9:45am CT.
In Oak Grove, nearly 500 homes were damaged amid a tornado's seven-mile path through the town, officials said early Tuesday. About 15 injuries were reported in the town of about 8,000 people.
"There were no fatalities," said Carl Scarborough, chief of the Sni Valley Protection District, according to the Star. "It looks like the injuries were minimal. Based on some of the damage I've seen, it's rather amazing."
In Smithville, as many as 25 homes were damaged, but no injuries were reported as of late Monday, police chief Jason Lockridge told AP.
The tornado in Smithville touched down at about 7:20pm CT, while the tornado in Oak Grove was reported soon after.
Severe storms moved east through Missouri, accompanied by tornado warnings. Widespread tree, power line and structure damage was reported in Arkansas, Iowa, Oklahoma and Wisconsin, according to Accuweather.