Houston PD pauses bodycam program as NYC debates police surveillance policies
Published time: 1 Mar, 2017 23:48
Edited time: 2 Mar, 2017 11:19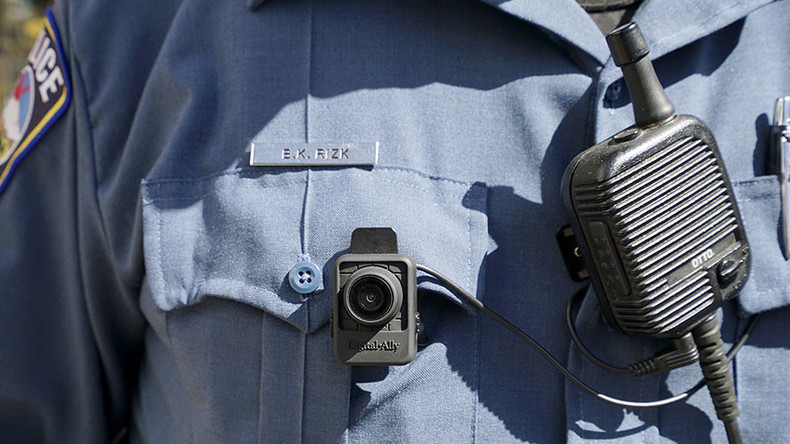 Houston, Texas and New York City are among the cities nationwide trying to balance new police surveillance technologies, including body-worn or gun-mounted cameras, with privacy and transparency concerns.
In recent weeks, Houston halted its rollout of body-worn cameras to its police force. The decision was made due to complaints about battery life and the lack of automatic triggering capabilities, Police Chief Art Acevedo told the Wall Street Journal.
"We owe it to our taxpayers and our officers to just pause and assess," he said, "to thoroughly look at the complaints from our folks and to look how we can add automatic triggers."
The Houston Police Department's bodycam pilot program began with 100 cameras in 2014. The full $8 million program started in April after a change in policy. Through mid-January, the Houston PD had deployed nearly 1,700 bodycams, roughly half of which are "next gen" equipment, according to the department. Officers uploaded almost 300,000 videos between mid-April and mid-January. The program calls for 4,500 cameras by the end of the year.
Acevedo has been in charge of the Houston PD for three months. When he first started, he said that setting high expectations on recording video was a top priority.
"I want to make it very clear to our men and women that if they have a critical incident and they don't have that thing on, and without excuse or justification, they're going to have some significant consequences," he told KHOU in December.
One thing he hoped to see was "a system with automatic triggering capabilities," which Acevedo had required when he was the police chief in Austin, Texas.
"If you get the right technology, you can save money, save time, increase transparency, and build trust, and that's my goal," he said.
Such a policy change would likely require the support of the Houston Police Officers' Union, which is "not opposed to automatic triggers," President Ray Hunt told KHOU.
WatchGuard Video, the company that makes Houston's bodycams, offers an auto-activation feature, but it was not requested. The battery problems have been "quite overstated" by the city's officials, and the batteries work fine when charged properly, a company spokeswoman told the Wall Street Journal.
Acevedo is seeking to transition the department to be more "data-driven" and "intelligence-led," using crime-trend analysis to innovate police work.
"You can almost move into a predictive model where you might be able to determine, based on previous patterns of crime, what should we expect at any given month based on a deep dive, an analysis, of three to five years of crime data," he said at a briefing on Monday.
That data analysis doesn't appear to be happening when it comes to bodycam video, however. The Houston PD has yet to do a single audit of the footage it's collected, according to a four-month investigation by KHOU.
The program has lacked transparency as well. There were 729 criminal cases that did not have video available, even though the officers were assigned body cams, the Harris County District Attorney's Office found. In the 162 cases that there was footage, more than 80 percent of the time it was given to prosecutors after the case was closed. In at least one video that was made public, in the high-profile officer-involved shooting of Alva Braziel, only the aftermath of the incident was captured.
Transparency has also been a problem with the New York Police Department. On Wednesday, two Democratic city council members introduced the Public Oversight of Surveillance Technology (POST) Act, which would require the NYPD to issue an impact-and-use policy for all surveillance technology, as well as outline the possible effects of such technology on citizens' privacy, the New York Daily News reported.
"Civilians are in charge of the police force — not the reverse. Surveillance technologies are too frequently not only used in secret, but they are acquired in secret," said Councilman Dan Garodnick, one of the bill's co-sponsors. "The public deserves the right to understand why certain law enforcement decisions are being made. Removing a layer of secrecy can help build trust between communities and our police department."
After the NYPD publishes a draft surveillance impact-and-use policy for a particular tool ‒ whether currently in use or in the future ‒ the public would have 45 days to submit comments, which the police commissioner would have to consider before issuing the final version to the city council, the mayor and the public.
One new technology, the gun shield camera, has been tested by police in St. Petersburg, Florida. It is mounted under the barrel of the weapon, an area currently used for flashlights and other devices. It also is automatically activates as the gun is drawn, notifies nearby officers and sends video.
"We spoke to the unions and they were all saying, 'this is what we needed'…with a body camera that's a question of when do you record, when do you not record, what's privacy, what's not privacy? So this would be 'I pulled my weapon, this is why I pulled it,'" Anthony Holloway, chief of the St. Petersburg Police Department told Fox Business.
It is unclear if the POST Act would require the NYPD to create an impact-and-use policy for the body-worn or gun-mounted cameras, or if it is only for surveillance tools like cell phone trackers, license plate readers, X-ray vans and gunshot detectors.