Not a single NYPD officer wears a body camera
Published time: 5 Oct, 2016 21:30
Edited time: 6 Oct, 2016 12:10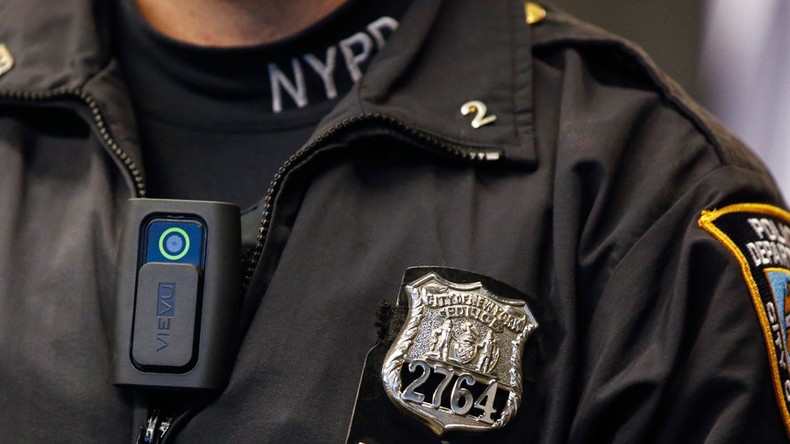 One of the reforms stemming from a federal court case on racial discrimination in the New York Police Department's "stop, question and frisk" policy was a pilot program outfitting officers with body cameras. A report shows not one officer wears one.
The NYPD said it was committed to outfitting officers with body cameras and had chosen a company to supply up to 5,000 devices over the next five years.
City officials said the company chosen is VieVu LLC of Seattle. The contract would be worth $6.4 million.
The New York Times, which first reported the anomaly, found the contract has yet to be signed, and the rollout of the cameras will not begin for months.
The plan is to have the contract signed by the end of the year and twenty precincts will be provided with 50 cameras for officers, city officials said.
"There are still things that have to be worked through," Mayor Bill de Blasio told reporters on Monday. "But I want to be very clear that they are coming."
A member of the City Council's Public Safety Committee, Ritchie Torres, a Bronx Democrat, said he believe the "glacial pace" reflected a lack of enthusiasm.
"What do you expect to happen with the NYPD sets the terms and the pace of police reform?" Torres told The New York Times. "I have trouble imaging it's for lack of capacity. I suspect it's for lack of will."
Several black pastors from the city called on the mayor on to dump the company chosen to provide body cams, arguing the cameras had issues.
"The product has failed in other cities. Let's not rush it and do our due diligence," the Reverend Keith Roberson, pastor of Southern Baptist Church told DNAinfo on Tuesday.
An example he cited was in California, where 25 percent of body camera video footage was erased by the Oakland Police Department during a routine software upgrade, the San Francisco Chronicle reported.
"I'm concerned with what faulty body cams would mean for people of my community," Roberson said. "Footage from body cameras can prove vital in any case. We just can't afford footage loss or any room for human error, especially in communities of color where relationships with police are already tense."
Body cameras were one of the court-ordered reforms under US District Judge Shira Scheindlin, stemming from a federal class action lawsuit three years ago that claimed the NYPD had engaged in racial discrimination when its officers conducted stop, question and frisk. At the height of the program in 2011, there were more than 600,000 stop, question and frisks that disproportionately involved black and Latino men. Following the lawsuit's findings, the number of stops dropped to 191,851.
Scheindlin ordered a body cam pilot program to be established in at least five precincts. Three years after that demand, not one of the approximately 35,800 NYPD officers is wearing a body camera.
The New York Daily News reported in August the pilot program would be pushed back until at least February 2017 due to delays in obtaining equipment and other issues.
The NYPD, however, said it did conduct a pilot program involving 54 officers that ended in March. "We needed better policy guidance and training for officers on body cameras," a spokesman for the agency, Peter Donald, said of that program.
Body and dashboard camera videos can be useful for determining what occurred during arrests, violent encounters or police shootings. Such camera footage, along with video captured on people's cell phones, has resulted in police prosecutions in the police-involved deaths of Freddie Grey in Baltimore, Maryland in 2015 and Laquan McDonald in Chicago, Illinois in 2014.
Across the country, body-worn cameras have been more readily adopted by police departments. Police forces in Chicago, Houston, Las Vegas, Los Angeles, Oakland and Washington, DC each have at least 500 officers wearing the devices.