TransCanada suspends $15b NAFTA lawsuit over Keystone XL pipeline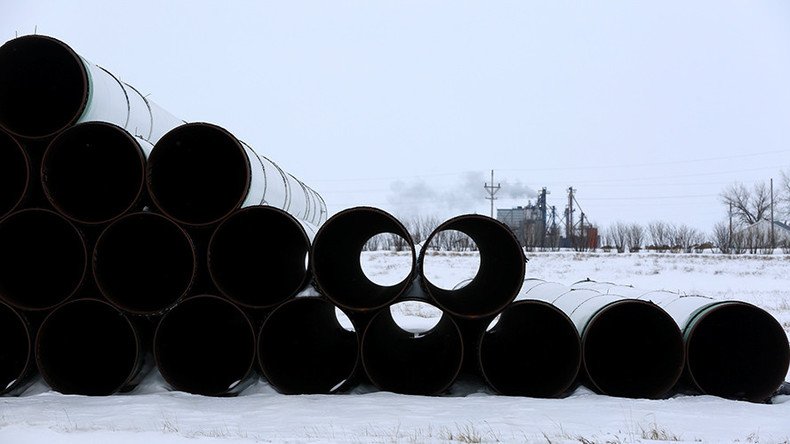 With a friendlier president in office, TransCanada has temporarily suspended its lawsuit that challenged the Obama administration's rejection of the Keystone XL pipeline under the provisions of the North American Free Trade Agreement.
On Monday, the company formally suspended its legal challenge that sought $15 billion in damages and costs it incurred from the Obama administration's November 2015 decision to block a section of the Keystone XL pipeline. The suspension is in effect until at least March 27.
Last month, upon taking office, President Donald Trump reversed the federal government's position on the pipeline, intended to transport crude tar sands oil through the US, from the Canadian province of Alberta to the Gulf of Mexico for international shipping.
TransCanada first filed a formal arbitration claim over the Keystone XL rejection in June 2016, appealing to NAFTA guidelines that allow a corporation, or "NAFTA investor," to challenge a host government before an international arbitration panel with the International Centre for the Settlement of Investment Disputes (ICSID).
ICSID's website indicated the challenge has been suspended, Reuters reported. TransCanada has confirmed the action.
After much opposition to the Keystone XL, President Barack Obama's administration reversed its original position and eventually rejected the project citing environmental and economic reasons. Obama said the "Keystone XL pipeline would not serve the national interests of the United States."
The proposed extension would be capable of moving as many as 830,000 barrels of oil a day over 1,700 miles from the tar sands in western Canada through three US states to Steele City, Nebraska, where it would have linked with existing infrastructure to bring the oil to refineries on the Gulf Coast.
With a stroke of a pen during his first week in office, Trump resuscitated the Keystone XL, removing obstacles to the pipeline's construction while inviting TransCanada to reapply for a permit to continue the project.
Trump's executive action also included an advancement of the Dakota Access Pipeline, the highly-contentious project planned to transport 470,000 barrels of crude oil per day from North Dakota's Bakken shale fields to Illinois. In its final days, the Obama administration suspended the completion of the Dakota Access Pipeline amid months of unrest over the line's route through the Standing Rock Sioux Tribe's territory and underneath the Missouri River, a source of drinking water to millions in the US.
A recent poll from the PewResearch Center reported that Americans are slightly more opposed to the pipelines than in favor; 42 percent said they are in favor of advancing the Keystone XL, while 48 percent are opposed. As for the Dakota Access Pipeline, the poll found a similar margin of 48 percent in opposition and 43 percent in favor of the project's completion.
You can share this story on social media: