EPA administrator Pruitt's emails from oil lobbyists released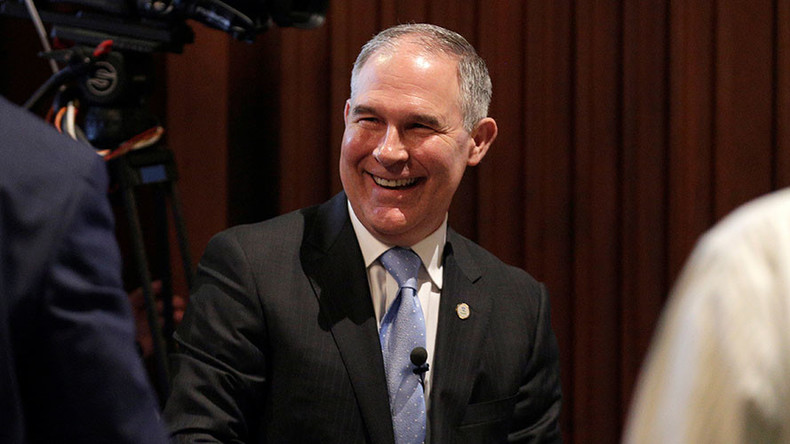 Newly appointed US Environmental Protection Agency head Scott Pruitt's emails between himself and the fossil fuel industry have been released. The emails revealed cozy relationships with lobbyists.
Emails released after Scott Pruitt's appointment as EPA chief reveal that his rapport with fossil fuel firms and electric utilities was "friendly" while working as Oklahoma's attorney general. The emails were withheld during Pruitt's EPA confirmation hearing by the state attorney general's office, which on Wednesday turned over 7,500 pages of emails to the Center for Media and Democracy (CMD).
READ MORE: EPA severely underestimated spills at fracked oil wells – report
In a 2013 email from the deputy solicitor general, advice was sought over a letter from representatives at Devon Energy, an oil and natural gas exploration and production company, that was directed to the EPA, regarding proposed regulations of methane emissions.
After receiving some feedback from other staffers, including Devon Energy executive Bill Whitsitt who even marked up the letter for the Attorney General's office. "Please note that you could use just the red changes," he wrote in an email, "or both red and blue (the latter being some further improvements from one of our experts) or none."
Other emails between Pruitt's office and Devon executives show a maintained connection, including one from Executive Assistant Ashley Olmstead to Whitsitt's Executive Assistant, where Olmstead wrote, "Just wanted to confirm we are still on for the meeting tomorrow morning at 10am here in our offices. Sorry we didn't get to do lunch last week, maybe we can reschedule!"
Whitsitt's assistant, Sheila Harder, replied: "That's great! I will get this on Bill's calendar. Can't wait to meet you tomorrow!"
Pruitt's office also coordinated with oil and gas lobby group American Fuel & Petrochemical Manufacturers (AFPM) in 2013 to oppose regulations on ozone limits and the Renewable Fuel Standard Program.
The emails also reveal that Pruitt was a sought-after speaker for the fossil fuel industry.
Pruitt was a speaker at an ALEC conference on May 3, 2013, in Oklahoma City where he participated in a panel called "Embracing American Energy Opportunities: From Wellheads to Pipelines."
The event's reception was hosted by the Petroleum Club and a luncheon sponsored by Koch Industries, the Washington Post reported.