Punisher skull and 'Blue Lives Matter' decals removed from police cruisers after backlash
Published time: 24 Feb, 2017 23:50
Edited time: 26 Feb, 2017 09:14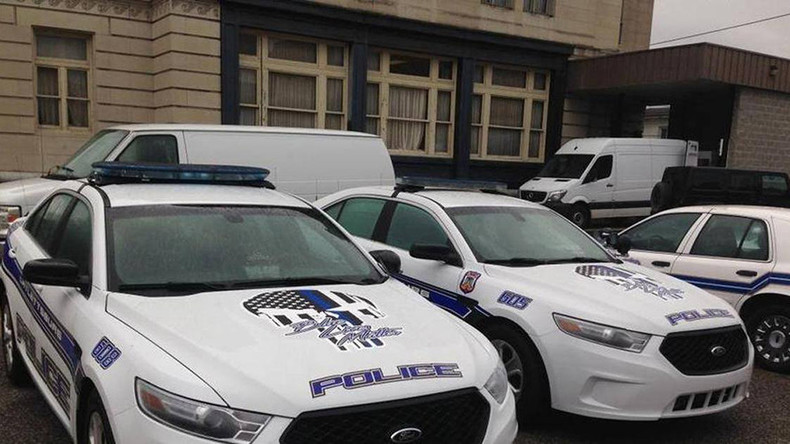 Kentucky's Catlettsburg Police Department has learned that emblazoning squad cars with large skulls based on a killer vigilante comic-book character was not a good idea. They've also removed stylistic "Blue Lives Matter" slogans from the vehicles.
A small Kentucky town became big news Friday when its police chief announced he was backing down and reversing a decision he made to decorate cruisers with menacing Punisher skulls and rage italic "Blue Lives Matter" text.
"That design is basically to give back to the police officers," Catlettsburg Police Chief Cameron Logan explained to the Lexington Herald-Leader.
The newspaper's initial reporting of the emblems sparked public outrage, which quickly led to the decision to remove them.
On the Blue Lives Matter messaging, Chief Logan told the paper, "Our lives matter just as much as anybody's. ... I'm not racist or anything like that, I'm not trying to stir anything up like that."
The phrase was adopted by police and their advocates in reaction to the Black Lives Matter movement, after two NYPD officers were ambushed and murdered in December 2014.
Logan, a 13-year veteran of the force, considers the skull to be a "warrior logo," and the overall image was meant to say, "we will take any means necessary to keep our community safe," he told the Herald-Leader.
The Punisher is a fictional Vietnam War veteran turned vigilante who goes as far as torturing and killing those he deems deserving. The fact that he is a Marvel character now owned by Disney brings copyright infringement concerns into the mix as well, but the top concern of critics is what the symbol means in a time of troubled relationships between the public and police.
"We're getting so many calls, and they're saying that the Punisher logo [means] we're out to kill people, and that's not the meaning behind that," Logan told Gizmodo's io9. "That didn't cross my mind."
The decals covered eight police vehicles, including SUVs. The department employs eight full-time and two part-time officers to protect the town population of 2,500, according to the Herald-Leader.
Locals reportedly took no issue with the designs, but other Kentuckians apparently did. Logan said the city council and Mayor Randall Peterman approved them. The newspaper cited a critical Reddit thread, along with a supportive one on Facebook.
READ MORE: Deaths of on-duty police grew by 10% nationwide in 2016 – report
Logan added the emblems in December, after having them designed in Louisiana.
In Kentucky's legislature, House Bill 14, a "Blue Lives Matter" hate crime bill, makes law enforcement a protected group in the same way other minorities are guarded from being targeted in crimes. It passed the State House this month and now moves to the Senate.