'I could see in his eyes he needed help': Louisiana woman rescues cop from attack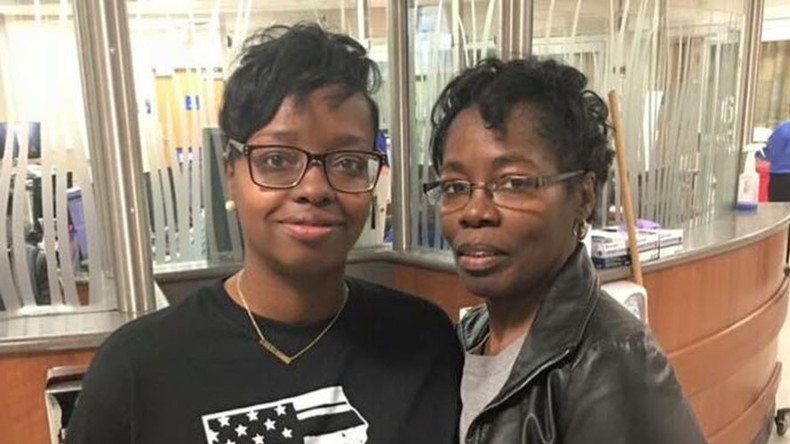 A 56-year-old woman is being honored as a good Samaritan after putting herself at risk to defend a police officer under assault. The Baton Rouge Police Department has thanked her for her bravery.
Vickie Williams-Tillman was called a hero by the mayor of Baton Rouge for putting herself in danger to help a police officer in need on Sunday. When she saw the officer being attacked with his own baton, she jumped on the assailant's back until backup arrived.
Williams-Tillman told the Advocate that she was driving to Sam's Club on Sunday morning when she witnessed the disturbance. An unnamed Baton Rouge police officer had come upon Thomas Bennett, 28, sleeping in his car with drug paraphernalia visible.
The officer ordered Bennett out of his vehicle, but when he exited he turned aggressive. Baton Rouge police spokesman Sgt. L'Jean McKneely told the Advocate that Bennett grabbed the officer's stun flashlight, radio and baton, using it to repeatedly bash the officer in the head. He allegedly tried to grab the officer's gun as well.
That was when Williams-Tillman came to the rescue.
"I could see in his eyes he needed help," Williams-Tillman told the Advocate. "You don't have time to think about it… I did what God needed me to do."
She managed to hold Bennett off until more officers arrived at the scene. Bennett was arrested and charged with aggravated battery, disarming a police officer, battery on a police officer, resisting an officer with violence, possession of cocaine and possession of drug paraphernalia, WGHP reported.
As a result, she has been thanked by the Baton Rouge Police Department, Baton Rouge Mayor Sharon Weston-Broome and called a hero by WAFB, a local CBS affiliate.
She isn't the only person intervening on behalf of police officers. Trooper Gary Guild of Berrien County, Michigan, is grateful for two men who helped him fend off two men attacking him.
Guild was pursuing Michael Scott Barber, 21, and Travis Taylor Wise, 19, after Barber had fled from a traffic stop on a motorcycle.
"After a three-mile pursuit, the driver attempted to maneuver in the gore of the exit ramp and lost control. After crashing, the driver quickly returned to his feet and charged toward Tpr. Guild," according to a news release from the state police.
Guild was outnumbered and under attack when Jerry Burnham, 44, of Berrien Springs and a 50-year-old Plainwell man pulled over and saved Guild from a brutal beating, WZZM reported.
"Without them, I don't know what would have happened to the trooper," Michigan State Police Lt. Melinda Logan told reporters.