Deaths of on-duty police grew by 10% nationwide in 2016 – report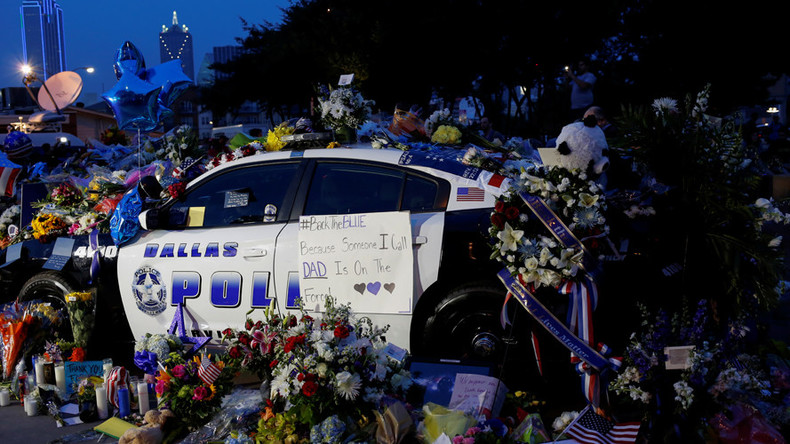 A preliminary report found law enforcement fatalities grew by 10 percent in 2016 from last year. For the first time, among the 135 officer fatalities, more deaths occurred by firearms than by automobile accidents.
Among the 64 officers killed by firearms, marking a 56 percent increase on the previous year's fatalities of 41, 21 were from ambush-style shootings. The National Law Enforcement Officers Memorial Fund, who published the report Thursday, said it was "the highest total in more than two decades."
"Eight multi-shooting death incidents claimed the lives of 20 officers this year. Those incidents include five officers killed in ambush attacks in Dallas, Texas and three in Baton Rouge, Louisiana spanning 10 days in July," the National Law Enforcement Officers Memorial Fund said.
Among the fatal shootings, the leading circumstances were when officers followed up on a domestic call, pursuing a suspicious person, or during an arrest.
The report found law enforcement fatalities nationwide rose to their highest in five years in 2016. Officer fatalities at their peak were 280 in 1971, and last year were 123.
"Public safety is a partnership and, too, often, the service and sacrifice of our law enforcement professionals is taken for granted," NLEOMF President and CEO Craig Floyd said of the report. "We must never forget the 900,000 law enforcement officers nationwide risk their lives every day for our safety and protection. And, this year, 135 of those men and women did not make it home to their families at the end of their shift."
Among this year's fatalities, 53 officers were killed in traffic-related incidents, a growth of 10 percent on 2015. Of those 53 deaths, 28 died in automobile crashes, 15 were struck and killed while outside their vehicles, and 10 were killed in motorcycle crashes. Prior to 2016, traffic deaths had been the number one cause of officer facilities in 15 of the last 20 years.
Eighteen officers died from other causes, including 11 who died from job-related illnesses, mostly heart attacks, while performing their duties. Other causes include beatings, a drowning, a fall, an aircraft crash and a stabbing.
The AP reported it was the rise in ambush killings targeting law enforcement officers that had police officers on edge.
"We've never seen a year in my memory when we've had an increase of this magnitude in officer shooting deaths," NLEOMF's Floyd told AP. "These officers were killed simply because of the uniform they wear and the job they do. This is unacceptable to the humane society that we are."
Floyd said agencies are struggling to recruit officers to their ranks, and the ambush-style killings have led to officers who continue to serve "talk about how their head is now on a swivel."
"They're always looking over their shoulder, always worrying about the next attack that could come at any time from any direction," Floyd said.
The deadliest states were Texas with highest fatalities, at 17, followed by California with 10, Louisiana with nine, Georgia with eight and Michigan with six.
While there are good records for police fatalities, the same can't be said for police-involved shootings of residents.
Up until August 2016, police departments were only required to voluntarily give data. A new directive by the Justice Department would require police departments to report all "arrest-related deaths." Federal officials said they would also work to confirm fatal cases seen in media reports and other open sources rather than wait for departments to report them voluntarily.
"Accurate and comprehensive accounting of deaths that occur during the process of arrest is critical for law enforcement agencies to demonstrate responsiveness to the citizens and communities they serve," their notice said.
According to The Washington Post, 955 people have been shot and killed by police so far in 2016.