Ready for liftoff: Apple's new 'spaceship' campus to open in April (VIDEO)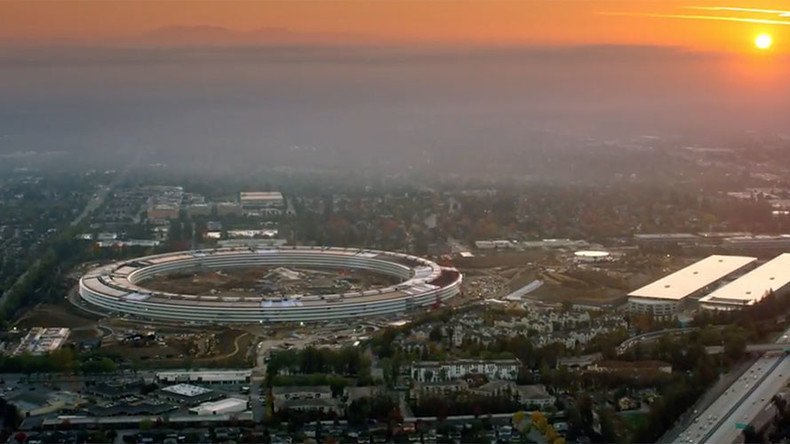 Apple's billion-dollar "spaceship" campus in Cupertino, California will open its futuristic doors to employees in April, after more than three years of construction.
The six-month process of moving in some 12,000 staff to the new complex, officially named "Apple Park" will begin in less than two months, according to a statement.
Construction will continue throughout the summer as the finishing touches are made to the giant, 175-acre campus, reportedly worth somewhere around $5 billion.
The campus, designed by architects Foster + Partners, will house a ring-shaped, 2.8 million-square-foot main building clad entirely in curved glass, as well as a 1,000-seat auditorium named after Apple's late co-founder and CEO Steve Jobs.
Jobs, who envisioned the facility "as a center for creativity and collaboration" presented the idea to the Cupertino City Council back in 2011, just months before his death.
The Steve Jobs Theater, which takes the shape of a glass cylinder, will honor Jobs' "enduring influence on Apple and the world," according to the statement.
"Steve's vision for Apple stretched far beyond his time with us. He intended Apple Park to be the home of innovation for generations to come," said Tim Cook, Apple's CEO.
READ MORE: Jaw-dropping time lapse shows near-completion of Apple's new 'spaceship' campus (VIDEO)
The campus will be powered by 100 percent renewable energy, according to Apple, and will run one of the largest on-site solar energy installations in the world, thanks to its 17 megawatts of rooftop solar panels.
Another feature is the natural ventilation system, which means no heating or air conditioning will be needed for nine months of the year.
Apple Park will also include a visitors' center with an Apple Store and cafe open to the public, a 100,000-square-foot fitness center for Apple employees, as well as secure research and development facilities. About 9,000 native and drought-resistant trees have also been planted on site.
Drone footage providing regular updates of the construction process has been posted online throughout the building phase, showcasing how far the development has come.
READ MORE: Apple 'spaceship' prepares for takeoff: Drone shows progress of billion dollar campus (VIDEO)
You can share this story on social media: