Apple 'spaceship' prepares for takeoff: Drone shows progress of billion dollar campus (VIDEO)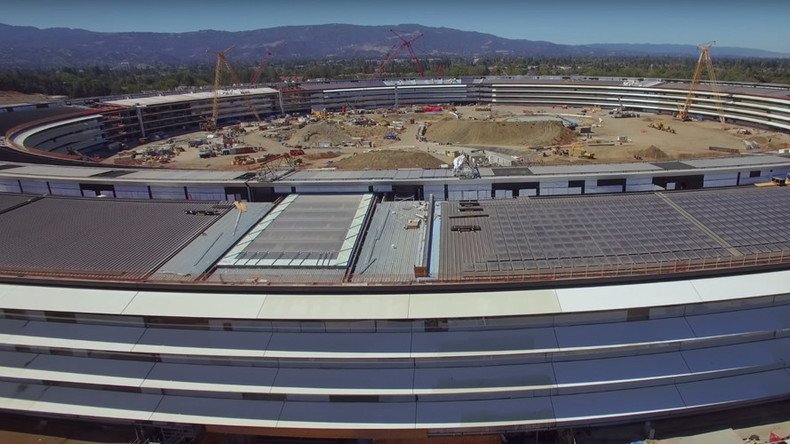 Apple's billion dollar 'spaceship' campus in Cupertino, California is nearly ready for takeoff. Impressive drone footage shows the site's latest progress ahead of its end of year completion deadline.
Construction work begun on Apple Campus 2 in 2014, after some delays. The subsequent development of the futuristic headquarters has been regularly showcased in drone videos.
READ MORE: Drone gets peek at Apple's new 'spaceship' campus (VIDEO)

A newly-released aerial tour of the campus suggests the focus of work had turned to the finishing touches as fewer construction cranes are on site than before.
Only a few sections of the "spaceship" remain unroofed as work continues to progress on the 100,000 square foot fitness center, the underground auditorium – which will be used for Apple's product reveals and the R&D facility.
The footage also show the underground tunnel which will be used to connect various parts of the campus and the parking garages which will be able to hold 11,000 vehicles. Meanwhile the installation of solar panels is now 40 percent complete
Work has also shifted to landscaping as the first trees are planted. Eighty percent of the site which is a mile in circumference and one-third of a mile wide will be green space planted with fruit trees.
The project reportedly costs in the region of $5 billion and is expected to be complete by the end of this year, with its some 13,000 employees supposed to move in at the start of 2017.
READ MORE: Drone shows Apple 'spaceship' campus set for end of year completion (VIDEO)
You can share this story on social media: