Drone shows Apple 'spaceship' campus set for end of year completion (VIDEO)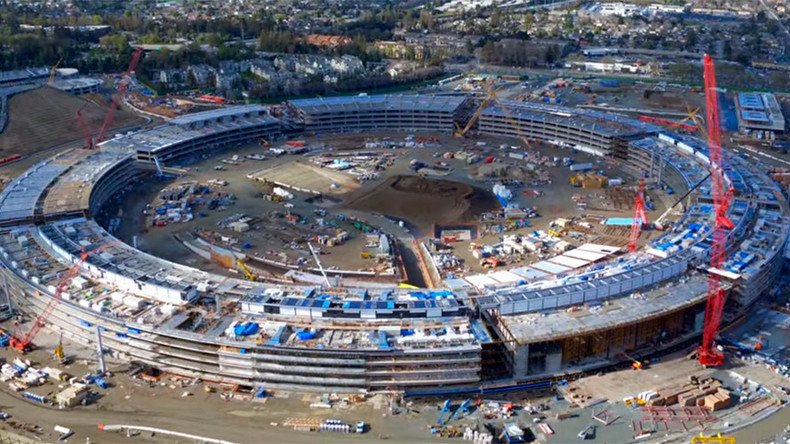 The latest drone video footage of Apple's "spaceship" campus in Cupertino, California shows construction is progressing in line with its completion deadline at the end of this year.
The bird's eye view of the site was captured by drone pilot Duncan Sinfield, who has been documenting the progress of Apple Campus 2 in his videos.
The video shows work continuing on the main building and reveals what will become a covered underground auditorium. A parking building on one side of the campus already has what appears to be a fully-constructed solar panel covering the roof.
The new campus, which will be able to hold up to 12,000 employees, is located one mile from the existing facility.
It was originally expected to open in 2015 but experienced delays, with work only beginning last year.
The main building extends an incredible 2.8 million square feet – the cafe alone will measure 2,386 square feet, while the on-site Apple Store will measure 10,114 square feet, according to Geeky Gadgets.
There will also be an observation deck above these facilities, allowing visitors to take in the whole campus.
After watching the Tim Cook interview on 60 Minutes, I decided that Apple's new "spaceship" HQ is where I'll ride out the zombie apocalypse.

— Chris Burdick (@chrisburdick) December 21, 2015
The Apple campus spaceship thing looks like a small city, what are they gonna do with all that space?!

— adamgraham (@admigr) February 1, 2016
Apple's former CEO Steve Jobs pushed for the project, which reportedly costs around $5 billion, before his death in 2011. Cupertino City Council unanimously approved Apple's plans for the new campus after a six-hour debate in October 2013.
READ MORE:​4k drone video reveals Apple's huge 'spaceship' HQ
This video filmed just over two years ago, not long after work started on the site, shows just how far the project has come in that time.
Apple is not stopping there, however, with plans in progress for another campus in North San Jose, California. The site is set to surpass the Cupertino Headquarters.
San Jose council unanimously approved Apple's plans for an 86-acre campus in North San Jose last week. The approval also allows Apple up to 15 years to add buildings to the site.
The facility – which could be as large as 4.15 million square feet – will be used for office, research, and development space and is projected to create 16,000 jobs in the area, according to San Jose Mercury News.
You can share this story on social media: