'Band-Aid on cancer of anti-Semitism': Anne Frank Center slams Trump's remarks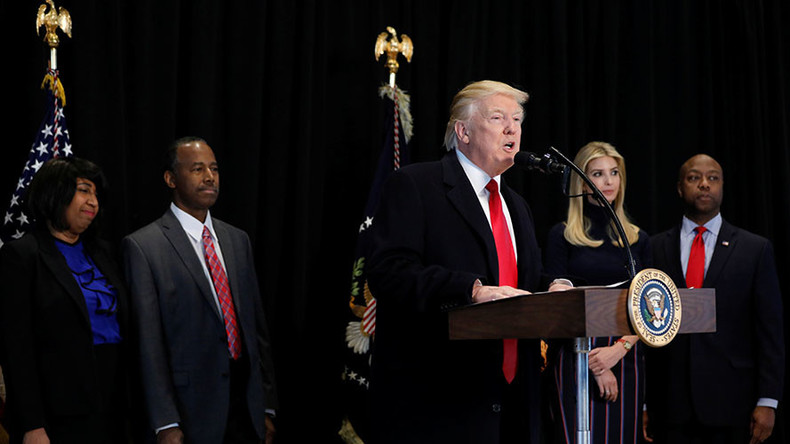 The Anne Frank Center has responded to Donald Trump's first public condemnation of anti-semitic threats with a scathing statement blasting the president's remarks as "a pathetic asterisk of condescension."
Trump responded on Tuesday to the recent spate of threats and incidents of vandalism targeting the Jewish community, describing them as "horrible" and "painful" and "a very sad reminder of the work that still must be done to root out hate and prejudice and evil."
The president made the comments at the end of a tour of the National Museum of African American History and Culture in Washington.
READ MORE: Jewish headstones destroyed at mass vandalization of St Louis cemetery
The criticism, however, came "too little, too late" for the Anne Frank Center for Mutual Respect, which issued a statement, calling the president's remarks as "a Band-Aid on the cancer of Anti-Semitism that has infected his own administration."
Steven Goldstein, executive director of the center, said that Trump's statement on anti-Semitism did not reflect actions from the White House.
"Make no mistake: The anti-Semitism coming out of this administration is the worst we have ever seen from any administration," he said.
Goldstein also reiterated criticism directed at Trump last month when he failed to mention Jews in his speech marking Holocaust Memorial Day.
"When President Trump responds to Anti-Semitism proactively and in real time, and without pleas and pressure, that's when we will be able to say this president has turned a corner. This is not that moment," the statement concluded.
The Anne Frank Center is trending on Twitter as people offer mixed reaction to the organization's statement.
White House press secretary Sean Spicer told reporters at Tuesday's daily briefing that Trump had forcefully condemned anti-Semitism.
"It's ironic that no matter how many times he talks about this, it's never good enough."
This is not the first time the Anne Frank Center has issued a statement condemning Trump. Goldstein responded to the president's executive orders on immigration last month, describing his actions as "demonizing refugees and immigrants."
Trump "is driving our nation off a moral cliff," he said.
READ MORE: At least 7 Jewish centers receive bomb threats, could be 'same serial caller'
On Monday, Jewish community centers in at least six US states received bomb threats in what was reportedly the fourth wave of such threats this year.
Paul Goldenberg, director of the Secure Community Network, said the caller involved in each of the incidents appeared to be the same person.
The centers were evacuated for a period. No bombs were found on any of the premises.
In a separate incident Tuesday, more than 100 headstones were vandalized at a Jewish cemetery in St Louis.