Dozens of workers fired for 'Day Without Immigrants' protest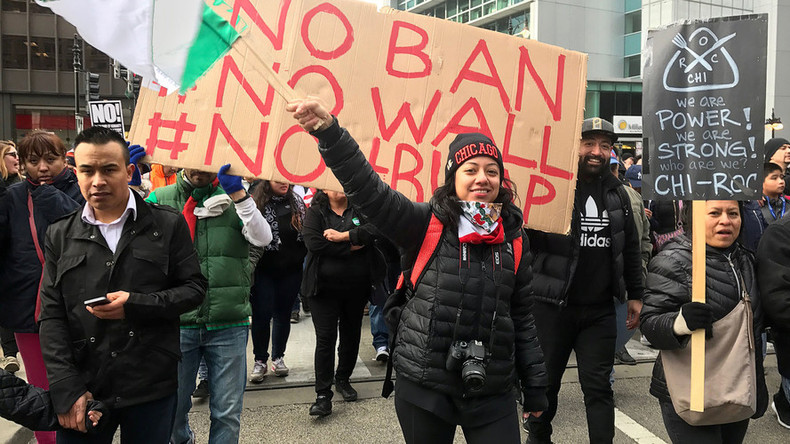 From South Carolina to Colorado, at least 80 workers who abstained from their jobs on February 16 were fired for their show of solidarity with a nationwide protest known as 'A Day Without Immigrants.'
Thursday's protest came in response to the Donald Trump administration's deportation actions against undocumented immigrants. The mass demonstration resulted in numerous business closures and marches as many went on strike to show solidarity with immigrants targeted by the surge of detainments by Immigrants and Customs Enforcement (ICE).
Yet some participating workers, unprotected by lax labor laws in the US, paid a stiff price. At least 80 people who chose join the protest and abstain from work were fired from their jobs, according to local news reports.
In Denver, at least 30 people employed by JVS Masonry were fired, even after telling their boss they would miss work to support the demonstrations but would make up for it two days later.
"The guys that we have out here that have families that are afraid to go out and get a gallon of milk, get gas, going to get groceries in case they get stopped and deported," said Ray, a crew foreman who was among the workers who were fired, according to KDVR.
Their boss, Jim Serowski, said if employees are "going to betray the company, then I have a concern."
"You stand for what you believe, make sure you stand for whatever consequences are going to come," Serowski said in a text to Ray.
"I have no view on immigration laws or anything going on with that. All I know is I have a business to run," Serowski said, according to KDVR. He added that workers would be able to ask for their job back.
In Catoosa, Oklahoma, 12 Hispanic workers for I Don't Care Bar and Grill were fired for not showing up to work and not indicating their absence beforehand.
"(They've) been working there for almost two years since the restaurant opened,"said a friend of the workers who translated to KTUL, adding that the workers felt the protest "was necessary so the community would stand together."
A text message from a boss to one of the fired employees read: "You and your family are fired. I hope you enjoyed your day off, and you can enjoy many more. Love you."
In Lexington County, South Carolina, 21 people were fired from Encore Boat Builders LLC for participating in the protest.
"Some employers are more supportive and would not have terminated the employees but some employers have the right to do that" in a state with labor laws like those of South Carolina, Melissa Burnette, an employment attorney in the state, told WLTX.
In Nolensville, Tennessee, 18 employees of Bradley Coatings, Inc., were fired for not working.
"We are the team leaders directly under the supervisors and they informed us last night that we could not go back to work and the boss said we were fired," one fired worker told WTVF. He added that the termination was "unfair" given the "many years" the employees put in with the company.
"We were going to make up that day on a Sunday, but they didn't understand that, and it was not the best way. They didn't give us an opportunity and just told us we were fired," the employee said.
"Regretfully, and consistent with its prior communication to all its employees, BCI had no choice but to terminate these individuals. The reason these employees missed work—to engage in peaceful demonstrations—had nothing to do with BCI's decision to terminate them," the company's attorney said in a statement.
The heightened ICE deportations of late were initially planned under Barack Obama's presidential administration, which deported more people than any other previous presidential administration in US history. But it is the Trump administration that has earned the ire of targeted immigrant communities and their supporters.
Trump has promised to deport up to 3 million criminal undocumented workers and, on January 25, signed executive orders expanding the categories of undocumented immigrants that the Department of Homeland Security can target to include those who have not been convicted of a crime. The order also strips federal money from sanctuary cities which offer protection to undocumented workers. On February 9 alone, ICE said it detained more than 160 individuals during raids.
"We recognize these raids as an effort by ICE and the new administration to sow chaos and intimidate our communities,"said David Abud, regional organizer for the National Day Laborer Organizing Network. "They are attempting to normalize these attacks towards our community and we must be ready, at a moments notice, to mobilize and resist."
As of May 21, more than 950,000 undocumented immigrants had final orders of removal, according to Thomas D. Homan, the current acting ICE director.