Immigration agents used 'deceptive' tactics to detain 120+ women and children – lawsuit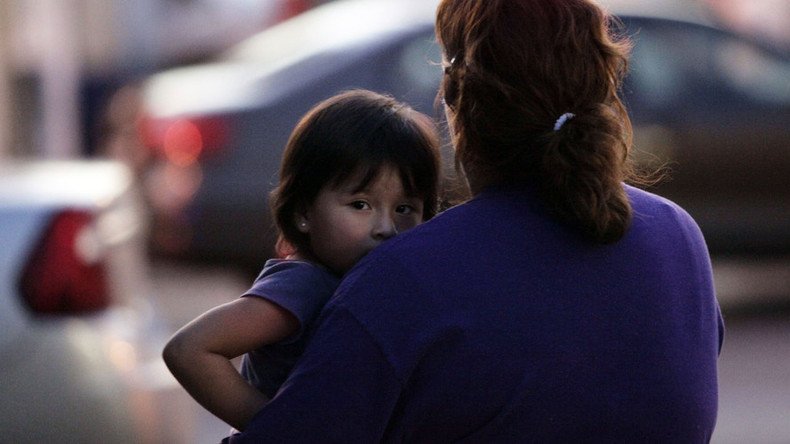 US immigration authorities allegedly used unconstitutional and deceptive tactics to detain more than 120 women and children, a civil rights group says. It is accusing the government of concealing information on the raids that led to massive deportations.
The Southern Poverty Law Center (SPLC) sued the Department of Homeland Security and its component agency, United States Immigration and Customs Enforcement (ICE), for violating its rights granted under the Freedom of Information Act (FOIA).
The group says that the federal government has failed to satisfy its request to release the information about two multistate immigration raids in January 2016.
"It has now been over six months since Plaintiff submitted its FOIA request, and Defendants have failed to produce any records or provide a substantive response to the request," the SPLC wrote in its lawsuit submitted on August 9.
In the meantime, the complaint has revealed that ICE used deceptive tactics to detain 121 mothers and children in raids in Georgia, North Carolina and Texas.
"These raids have raised serious concerns about potential constitutional violations," the group said.
It appears that ICE agents entered homes of Central American families without obtaining either lawful or voluntary consent.
Instead, they were allegedly introducing themselves as police officers looking for a criminal suspect, while showing immigrants a photo of an African-American man.
In some cases, the agents allegedly said that they were only taking the immigrants into custody for a short time to examine location-tracking electronic ankle shackles.
"When asked for copies of warrants or orders to enter a home, ICE agents ignored the requests, threatened residents, or ordered them to 'be quiet,'" the SPLC said.
The group, a longtime defender of immigrants' rights, has stated that all of the women and children detained by ICE "consistently" complied with orders of supervision, such as check-ins and location tracking.
Despite that, "all but approximately twelve of the detained families" have been subsequently deported after the raid, the group said.
The group has said that those January raids have had a significant impact on immigrant communities, not only in the three states, but nationwide, also becoming the subject of immense public interest and criticism.
ICE has been condemned by US officials, including 146 members of Congress. In January, immigrant-rights groups and some Democrats lashed out at the Obama administration over the raids.
At the time, Rep. Luis V. Gutiérrez (D-Illinois) called the raids "cruel reminder of a discredited policy."
In an interview with Politico, Sen. Robert Menendez (D-New Jersey) characterized the raids as "harsh tactics," aimed at those "whose only mistake was to escape a certain death in their native countries."
At times during his two terms, President Barack Obama has been referred to as the "deporter-in-chief" in response to his immigration programs. According to Politico, more than two-million people have been deported during his presidency.
However, Obama's "immigration accountability executive action" in November 2014, to stop the removal of law-abiding undocumented immigrants, has also garnered criticism from those seeking tougher immigration policies.
You can share this story on social media: