National strike: Over 100 protests organized against Trump
Published time: 18 Feb, 2017 04:13
Edited time: 19 Feb, 2017 13:58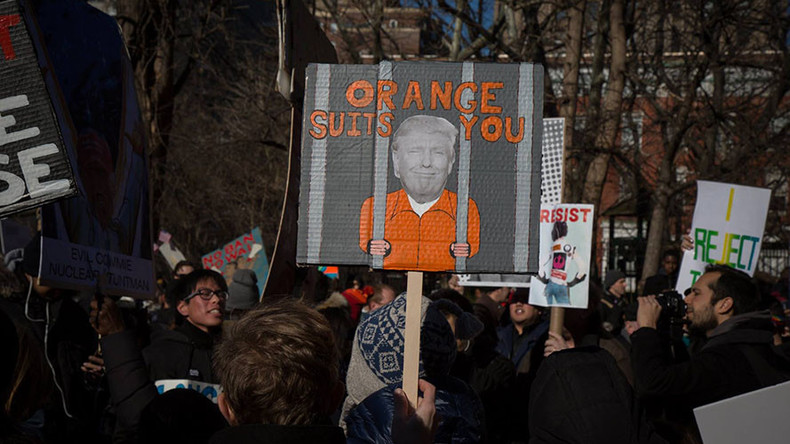 A day after the "Day Without Immigrants" protests, more than 100 general strikes sprouted across the nation "to stand up for America's democratic principles."
On Friday, the group known as Strike4Democracy coordinated more than a hundred actions as a part of the #F17 protests, where tens of thousands of people took to the streets in major cities across the US, including Chicago, St. Louis, New York City, Pittsburgh and many more.
On their Facebook page, Strike4Democracy calls for a day of mass strikes against "ICE raids, travel bans, Trump's mobilization on the border wall, as well as attacks on the rights of workers, women, people of color, the LGBTQ+ community, and our environment."
The group calls on participants to skip work and school, while refraining from spending any money.
In Denver, protesters shut down a downtown Wells Fargo Bank in protest of the Dakota Access Pipeline.
Protesters marched on the courthouse in St. Louis in defense of disability rights and the Affordable Care Act.
In North Charleston, hundreds of protesters gathered at the Coliseum ahead of President Donald Trump's arrival, calling on people to vote.
Pittsburgh protesters gathered in front of the City-County Building to denounce Trump's nominees and the travel ban.
In Chicago, lawyers and legal professionals sponsored by the National Lawyers Guild organized a strike and protested against Trump's executive orders at the Federal Plaza under the hashtag #LawStrikesBack.
More than 16,000 people responded to a Facebook page post for a rally at Washington Square Park, in New York, calling on representatives to uphold the Constitution.
Boasting the highest immigrant population in the country, strikes took place across California despite the heavy rain and adverse weather conditions throughout the state. In San Francisco, about 200 protesters gathered in the rain to protest in front of a Bank of America building. Similar actions with #Strike4Democracy were planned in Los Angeles, San Diego, Santa Cruz and elsewhere.
Organizers say the day of non-violent resistance was meant to "build towards a series of mass strikes," the first of which is a women's strike planned for March 8. They also anticipate strikes taking place on May 1, or May Day, as well as "heightened resistance" throughout the summer.
"Together we speak with one voice. We say: NO to attacks on our marginalized communities; NO to attacks on the sovereignty of indigenous peoples; NO to attacks on constructive critics within and outside government; NO to attacks on our constitutionally guaranteed rights; NO to attacks on our environment; NO to attacks on working families; NO to attacks on public education," the group declares on their site.
Two national demonstrations and strikes in a single workweek is becoming a common occurrence in the US. The organizers behind the Women's March which drew millions of women to protest across the world have named March 8 the 'Day Without Women.' They also promoted the 'Today I Am a Muslim' protests in New York City on Sunday, where protesters are expected to gather in Times Square to show solidarity with Muslims.