Pot shots: Marijuana catapult seized at US-Mexico border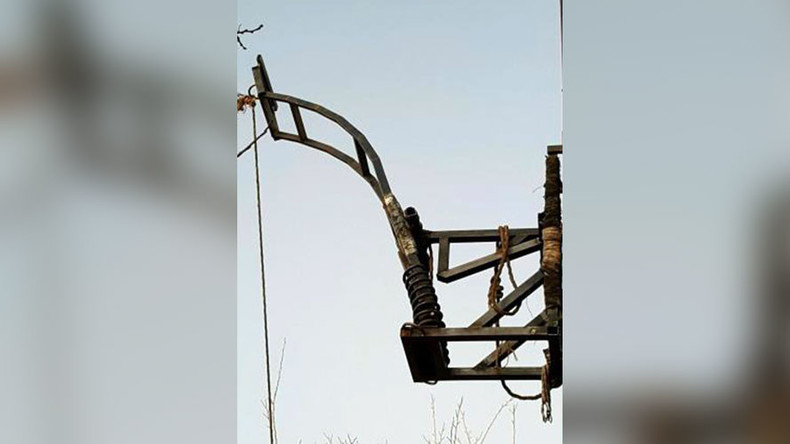 US Border Patrol agents in Arizona have dismantled a "catapult system" allegedly used to transport at least 47 pounds of marijuana over a border fence from Mexico into the United States.
The homemade catapult was discovered on February 10 within the Mexico side of a border fence near the Douglas Port of Entry in Tucson, Arizona, after US Border Patrol "agents noticed several people on the south side quickly retreating from the fence as they approached," US Customs and Border Protection said Tuesday.
Near the catapult, agents found two bundles of marijuana that collectively weighed more than 47 pounds. US agents dismantled the catapult and corresponded with Mexican authorities, who seized the system. Border Patrol agents kept the marijuana, US Customs and Border Protection said.
Affixed to the border wall between Agua Prieta, Sonora and Douglas, the catapult was made with welded steel parts that resembled a basketball backstop, according to the Tucson Sentinel.
In recent years, drug-smuggling efforts at the US-Mexico have included the firing of bundled contraband with air-powered cannons, vehicle ramps and light aircraft used to airdrop drugs into the desert, AP reported.
In 2011, a trebuchet possibly used to thrust marijuana bundles over the border fence near Naco, Arizona, was found by Mexican authorities, according to the Tucson Sentinel. In December, US Border Patrol agents arrested two US teenagers found with 34 pounds of marijuana that authorities believed had been shot into Naco with an air cannon.
Last month, about 3,000 pounds of pot hidden inside watermelon-shaped packages disguised as a commercial shipment was confiscated by US Customs and Border Patrol at the Pharr International Bridge cargo facility in Texas.
"Smugglers continue to be creative as they attempt to introduce illegal narcotics into our country,"said Port Director Efrain Solis Jr. "Our frontline CBP officers' experience, vigilance and attention to detail prevents the introduction of these dangerous drugs into our country."