House Intelligence Committee wants to probe leaks that led to Flynn's resignation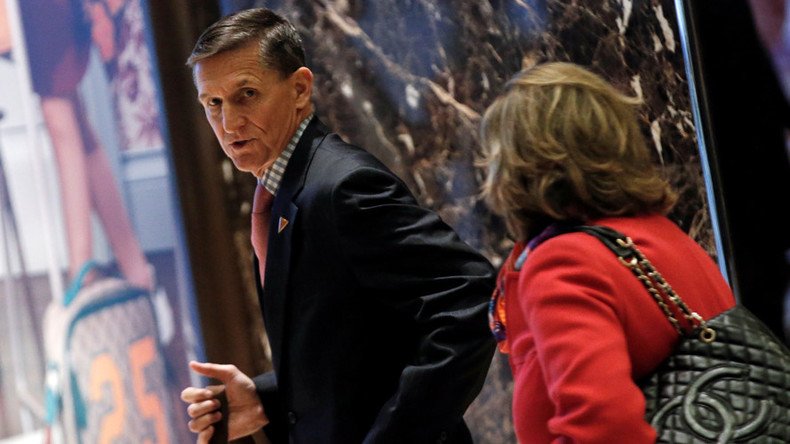 The House Intelligence Committee wants a probe into the leaks of phone talks between Michael Flynn and the Russian ambassador, asking why a US national security adviser was recorded by the FBI and why press was briefed ahead of the White House.
"I want to hear from the FBI as to how this got out," Devin Nunes, the California Republican who heads the committee, told reporters on Tuesday, as reported by CNN. "We don't even know if this is true. We just know this from press reports."
Later in the day, he said the FBI must explain the situation surrounding Flynn, "and they better have a good answer," as cited by the Washington Post. "The big problem I see here is that you have an American citizen who had his phone calls recorded."
According to the newspaper, Nunes was outraged that the recordings have been leaked, citing a complex procedure of intercepting communications involving US nationals citizens and then "unmasking" it for intelligence purposes.
Flynn resigned on Monday night after it emerged that he misinformed senior administration officials about the content of his phone conversations with Russian ambassador to the US Sergey Kislyak.
"Unfortunately, because of the fast pace of events, I inadvertently briefed the vice-president-elect [Mike Pence] and others with incomplete information," Flynn explained in his resignation letter.
Dissatisfied with the official explanation, some Republicans now want to talk to Flynn.
"I would think that we should talk to General Flynn very soon and that should answer a lot of questions. What did he know? What did he do? And is there any reason to believe that anybody knew that and didn't take the kind of action they should have taken," Republican Senator Roy Blunt, a member of the Senate Intelligence Committee, told KTRS radio on Tuesday.
Other lawmakers, however, demanded that an all-out inquiry into how the White House responded to the news about Flynn.
READ MORE: US media reports of Trump links to Russian intelligence 'laughable, cite no facts' – Kremlin
"There are tons of questions here. We need a thorough investigation," Republican Adam Schiff said Tuesday on 'CNN Newsroom'. "I'd like to see in addition to what we're doing in the Intelligence Committee, because we have limited resources, an Independent Commission look at all these questions, because they are of such great significance to the whole country."
President Donald Trump lambasted the issue of the leaks, choosing not to address Flynn's resignation head on.
"The real story here is why are there so many illegal leaks coming out of Washington? Will these leaks be happening as I deal on N.Korea etc?" he asked on Twitter.
The real scandal here is that classified information is illegally given out by "intelligence" like candy. Very un-American!

— Donald J. Trump (@realDonaldTrump) February 15, 2017
Given that an official explanation of Flynn's departure remains rather obscure, the immediate question is what was actually said during Flynn's talks to ambassador Kislyak. Some mainstream US media claimed the former national security adviser discussed the prospect of lifting economic sanctions, but the Kremlin has denied the allegations, saying that the issue was never raised during the conversations.
On Tuesday, in his last interview before resignation, Flynn told the Daily Caller the entire issue "wasn't about sanctions. It was about the 35 guys who were thrown out." He then added: "So that's what it turned out to be. It was basically, 'Look, I know this happened. We'll review everything.' I never said anything such as, 'We're going to review sanctions,' or anything like that."
"But this is ridiculous. It's so out of control. I've become an international celebrity for all the wrong reasons," he said.
The national security adviser is the key official in charge of White House's stance on international affairs. In the past, the high-profile job has often been given to prominent figures, including Henry Kissinger, Zbigniew Brzezinski and Condoleezza Rice. Normally, a national security adviser is appointed for an entire four-year presidential term. None, until Flynn, has held the position for less than a month.
You can share this story on social media: