US media reports of Trump links to Russian intelligence 'laughable, cite no facts' – Kremlin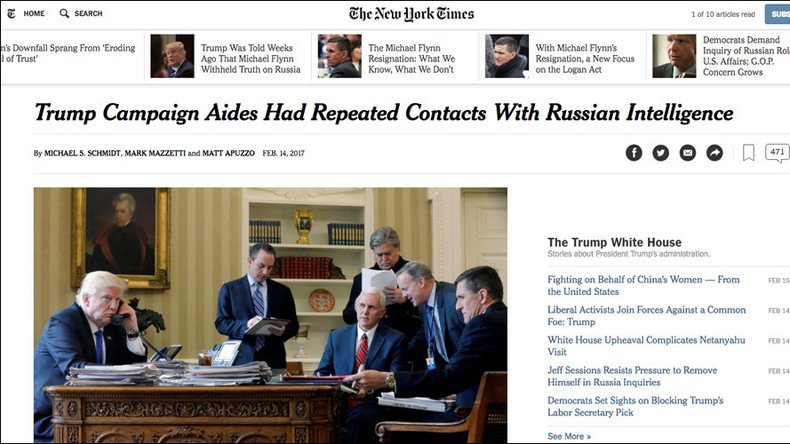 Moscow has criticized news reports alleging associates of Donald Trump had numerous contacts with Russian intelligence during the election, with the Kremlin's spokesman complaining that it's hard to distinguish fact from fiction in the US media lately.
"Those reports are not based on concrete facts," Dmitry Peskov stressed on Wednesday, noting "there are five different sources in the story and none is named. So you see, really laughable stories are now given a go."
The Russian president's spokesman added, "Let's not just believe the press. It's difficult lately tell the real deal from fakes and hoaxes," referring to reports in the New York Times and on CNN which cited anonymous US sources as saying that several people close to President Donald Trump had communicated with Russian intelligence officers during the presidential campaign.
Russia's Foreign Ministry has reacted cautiously, saying the publications indicate a big political game involving power bargaining is being played within the US establishment.
Other Russian officials were more forthcoming, however.
"It's common tactic to discredit a person," Senator Vladimir Dzhabarov told RIA Novosti, commenting on expose stories run by the New York Times and CNN, adding that it's a continuation of the same campaign that forced Michael Flynn's resignation as National Security Advisor earlier.
"Trump should realize that the real target of such leaks is him. Unless the American president puts an end to this witch-hunt and stops surrendering his people, this will all end bad. The final goal of his enemies is to impeach the president," he added.
Dzhabarov, who holds a seat in the Russian Senate, is a veteran intelligence officer who retired with the rank of Colonel General.
Leonid Slutsky, a fellow legislator and head of the Parliament's Foreign Affairs Committee, came to a similar conclusion, saying that the US mainstream media is carrying out a concerted attack on Trump.
"Such outlets use any chance to mar the new president and use this overused and baseless 'Russian dossier' for the purpose often because it makes a reliable impact on their readers," he explained.
The Russian Foreign Intelligence Service, whose agents Trump's aides were allegedly in contact with, told TASS they were surprised by the reports and would not comment on "media speculations that lack proof."
In an earlier article, the New York Times cited unnamed current and former US officials as saying that members of Trump's election campaign had had contacts with senior Russian intelligence officers. The newspaper said US intelligence had intercepted the communications of Trump's aides as they were collecting information to see if there was any evidence showing collusion between the Republican and Russia on the alleged hack of the Democratic National Convention – evidence that they reportedly failed to find.
The report said that, not only campaign members, but also other associates of Trump had been targeted by the surveillance. The only name it provided was that of Paul Manafort, who had to resign as Trump's campaign manager after Ukrainian authorities accused him of having been involved in the corruption of the previous Ukrainian government. The evidence of such corruption was later disavowed by the Ukrainian investigators.
Commenting for the NYT report, Manafort denied having any ties with the Russian intelligence.
"This is absurd. I have no idea what this is referring to. I have never knowingly spoken to Russian intelligence officers, and I have never been involved with anything to do with the Russian government or the Putin administration or any other issues under investigation today," he told the newspaper.
The NYT sources would not disclose any details, including the names of alleged Russian spies or the number of Trump people that had allegedly communicated with them, claiming the data had been collected as part of routine surveillance of the communications of foreign officials.
CNN ran a similar story independently of the newspaper, citing anonymous "law enforcement and administration officials."
You can share this story on social media: