Trump 'told me to go out and talk more': Flynn's final interview before resignation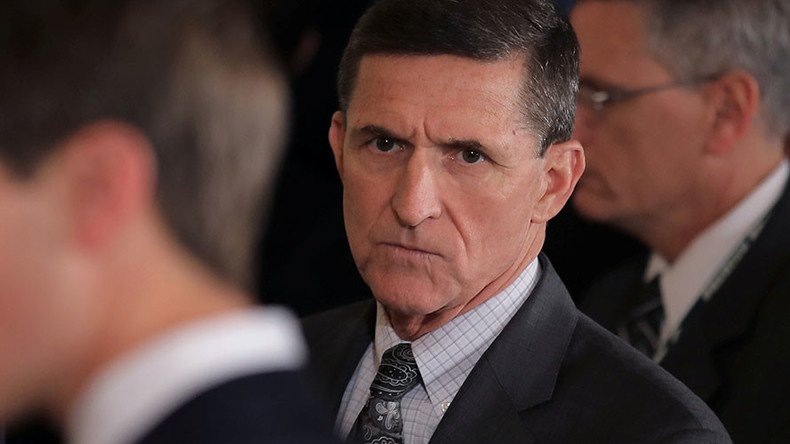 In General Michael Flynn's last interview hours before resigning as President Donald Trump's national security advisor, he said "there were no lines crossed" in his telephone call with Russia's Ambassador to the US, and called the leaks "a criminal act."
The Daily Caller News Foundation spoke with Flynn just hours before he resigned on Monday. Flynn told the organization that Trump "expressed confidence" in him, enough anyway, to tell Flynn "that we need to go out and talk more."
Flynn expressed reluctance to go out and talk more, "But this is ridiculous," he said. "It's so out of control. I've become an international celebrity for all the wrong reasons."
Bloomberg had reported that Flynn and his staff were instructed not to speak to the media over the weekend following reports that Flynn had misled Vice President Mike Pence on the contents of his conversation with Russia's Ambassador to the US, Sergey I. Kislyak.
In that phone call, which took place during the White House transition under President Barack Obama, Flynn acknowledged to the Daily Caller that the 35 Russian diplomats - expelled by Obama - were briefly discussed.
"It wasn't about sanctions. It was about the 35 guys who were thrown out," Flynn said. "So that's what it turned out to be. It was basically, 'Look, I know this happened. We'll review everything.' I never said anything such as, 'We're going to review sanctions,' or anything like that."
Flynn continued, saying that the call "was not to relieve sanctions. It was basically to say, 'Look, we're coming into office in a couple of weeks. Give us some time to take a look at everything.'"
None of that crossed any line, Flynn stressed.
"If I did, believe me, the FBI would be down my throat, my clearances would be pulled. There were no lines crossed."
Flynn, who was purportedly urged to retire early as director of the Defense Intelligence Agency in 2014, places more emphasis on the leak of his call with the Russian diplomat, rather than the call itself.
"In some of these cases, you're talking about stuff that's taken off of a classified system and given to a reporter. That's a crime," Flynn said. "You call them leaks. It's a criminal act. This is a crime. It's not just a wink and a nod."
Calling the leaks "unprecedented," Flynn queried, "Are they coming out of people in the National Security Council? Are they coming out of people in the intel community? Or State? Or Defense?"
"Members of Congress are very concerned because these are leaks from classified systems. The House and Senate are looking into those things, as they should," he said.
The Daily Caller cited two former senior intelligence officers, retired Col. James Waurishuk, who served on the National Security Council, and retired Col. James Williamson, both of whom agreed that US intelligence was being politicized.
Flynn claims to have apologized to Pence for denying that expulsions were mentioned in the call.
"For the vice president, I feel terrible. I put him in a position. He's a man of incredible integrity. I think the world of him. He is so good for our country," he said. "I should have said, 'I don't know. I can't recall,' which is the truth. Looking back, that's what I should have done."
You can share this story on social media: