Fake news face-off: Trump & CNN in spat over POTUS comments… again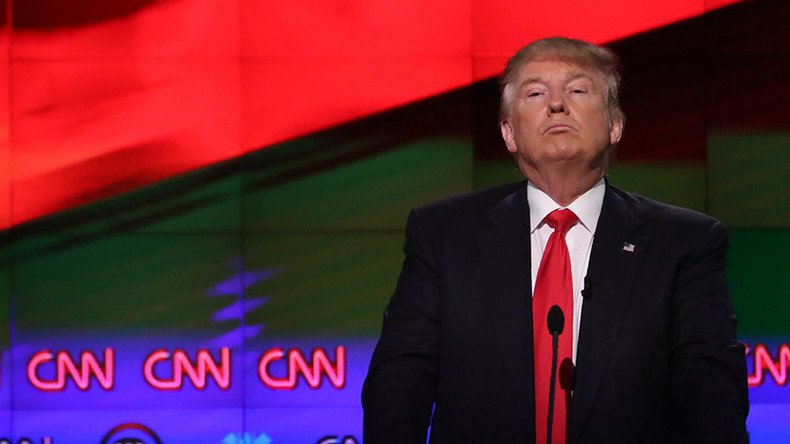 Donald Trump and CNN have gone head to head, again, after Trump described the network as "fake news CNN" referencing a Friday interview with Vermont Senator Bernie Sanders on the television station.
"While on FAKE NEWS @CNN, Bernie Sanders was cut off for using the term fake news to describe the network. They said technical difficulties!," Trump tweeted on Sunday.
Sanders spoke to CNN's Erin Burnett Friday about alleged links between Michael Flynn, Trump's National Security Advisor, and Russia, as well as Trump's subsequent reaction, telling reporters he "didn't know about it."
When asked what he thought about Trump's remarks, Sanders joked: "Maybe he's been watching CNN 'Fake News,' what do you think?"
Immediately after making the joke, however, the interview ends as Sanders' connection with the outlet seemingly breaks down.
CNN didn't let Trump's tweet go unanswered, however, with the station's PR department tweeting the president to say he was "false" as the interview did continue after a commercial break.
"Transcript from @ErinBurnett intvu w @SenSanders. He was not cut off. Those are the facts," a tweet from CNN's Communications team read, providing a link to the interview's transcript. Both CNN hosts Jake Tapper and Brian Stelter pulled Trump on his tweet too, with the latter stating that Trump's comments were "untrue."
In a press conference in January, Trump branded CNN "disgraceful" before refusing to answer a question from Jim Acosta, one of the network's correspondents. "Be quiet. I'm not going to give you a question. You are fake news," Trump said.
READ MORE: 'You are fake news': War breaks out between supporters of Trump & media on Twitter
Trump's tweet on Sunday comes only a day after Sanders tweeted to say that in light of Trump's approach to the presidency thus far, he "clearly does not understand what our Constitution is about."
READ MORE: Sanders burns Trump over tweets, says president 'doesn't understand' Constitution
You can share this story on social media: