Check your sources: Pelosi fooled by fake Flynn tweet (VIDEO)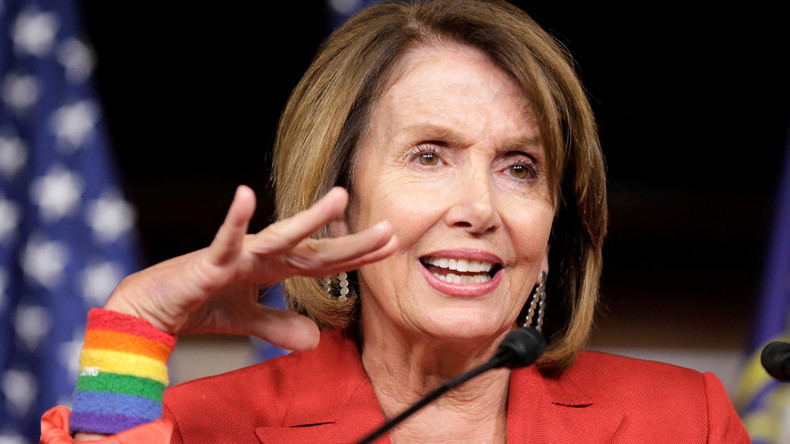 House Minority leader Nancy Pelosi read a fake tweet to reporters on Tuesday not knowing it came from a parody account of resigned National Security Advisor Michael Flynn. Pelosi falsely said that Flynn had described himself as a "scapegoat" in the blunder.
Flynn resigned from his position as national security advisor on Monday after allegedly downplaying conversation he had with the Russian Ambassador Sergey I. Kislyak when detailing the call afterwards to Vice-President Mike Pence.
READ MORE: Trump 'told me to go out and talk more': Flynn's final interview before resignation
"The tweet of General Flynn today was 'scapegoat'. Do you know what a scapegoat is?" Pelosi said during a news conference at the Capitol on Tuesday, before providing those in attendance with the Biblical definition of the term.
"What can be drawn from his statement is that other people have blame that should be shared in all of this," the Democrat continued.
READ MORE: Blame Obama, not Trump: Twitter trolls Pelosi for Yemen policy memory loss
Unfortunately for Pelosi she had failed to look twice at the Twitter account she was getting her information from, which was clearly labeled "Parody Account" in its bio.
While I accept full responsibility for my actions, I feel it is unfair that I have been made the sole scapegoat for what happened. (1/2)

— Michael Flynn (@GenMikeFlynn) February 14, 2017
But if a scapegoat is what's needed for this Administration to continue to take this great nation forward, I am proud to do my duty.

— Michael Flynn (@GenMikeFlynn) February 14, 2017
When informed by an aide that what she had just read was fake the Democrat reportedly replied, "What do you mean it's fake?" according to a journalist at the press conference.
Elijah Cummings (D-Maryland) also made the same mistake at the event, reportedly due to a story from the New York Times, which was also fooled by the parody account and used its tweets as genuine quotes. The NYT has since removed the reference.
Massachusetts Senator Elizabeth Warren used the term "scapegoat" in a tweet, but it is unknown if this is a reference to the parody account's tweet.
But American national security demands that we not allow Michael Flynn to become a scapegoat for this Admin's disturbing ties to Russia.

— Elizabeth Warren (@SenWarren) February 14, 2017
The parody account itself hit out at those fooled by its presence, saying it was "a testament to the severity of liberal #FakeNews epidemic that Dem politicians falsely accuse others based on 100% unverified nonsense!"
It's a testament to the severity of liberal #FakeNews epidemic that Dem politicians falsely accuse others based on 100% unverified nonsense!

— Michael Flynn (@GenMikeFlynn) February 15, 2017
You can share this story on social media: