Oil, gas companies no longer required to disclose taxes & fees paid to foreign govt's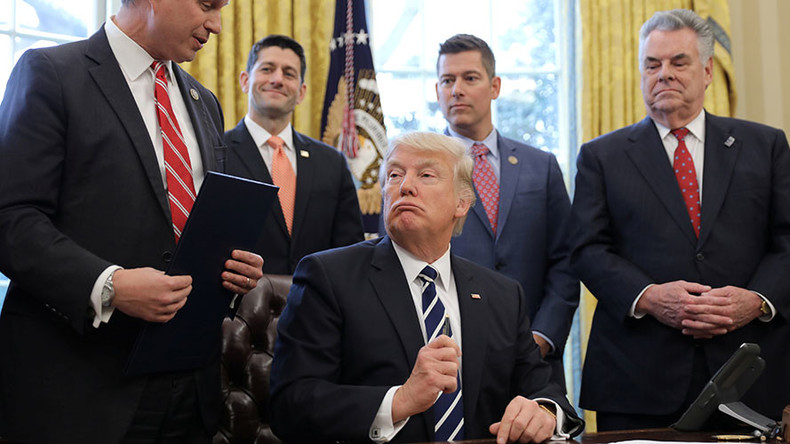 President Donald Trump has repealed the mandate for US oil and gas companies to report taxes and fees paid to foreign governments. The administration and Republicans claim the move will create jobs, but Democrats criticize the lack of transparency.
The Dodd-Frank Act signed by President Barack Obama in 2010 required the US Securities and Exchange Commission to write a transparency rule for fossil fuel, mining, and other extraction companies. That rule has now been overturned after Trump signed House Joint Resolution 41, passed by Congress earlier this month.
Up until Tuesday, oil and gas companies had been forced to reveal any production-related fees such as taxes paid to foreign governments. That rule was ditched via party-line votes in both the House and Senate. Senator Sherrod Brown (D-Ohio) had argued that the rule was "essential to combating waste, fraud, corruption, and mismanagement."
The White House celebrated the roll back of what it called a "costly regulation that threatened to put domestic extraction companies and their employees at an unfair disadvantage."
"This is one of many that we've signed, and we have many more left," Trump said during the signing ceremony. "And we're bringing back jobs big league, we're bringing them back at the plant level; we've bringing them back at the mine level. The energy jobs are coming back. And it's -- you see what's going on with the stock market. They know that we know what we're doing, so it's going up."
The administration estimated that the rule had cost US businesses up to $600 million per year and around 200,000 hours of paperwork, resulting in an "unfair advantage for foreign-owned extraction companies."
"Over 20 years, there's been 56,000 rules that have been put in place with very little legislative input or oversight, and it's time that changed," author of HJR 41, Rep. Bill Huizenga (R-Michigan), said during the ceremony.
The rule was repealed through the Congressional Review Act (CRA), a seldom-used 1996 law that makes it easier for legislators to cancel out administrative rules passed by executive agencies.
Dodd-Frank is still the law of the land, so the SEC has a gap to fill as far as a transparency rule for the extraction industry, but the replacement rule will have to be substantially different from the one repealed.
This was Trump's first signature on CRA legislation, but he's expected to sign more, as Congress has passed a CRA resolution to end a US Interior Department rule on water stream protection from coal mining.
You can share this story on social media: