NASA's Space Launch System counts down to liftoff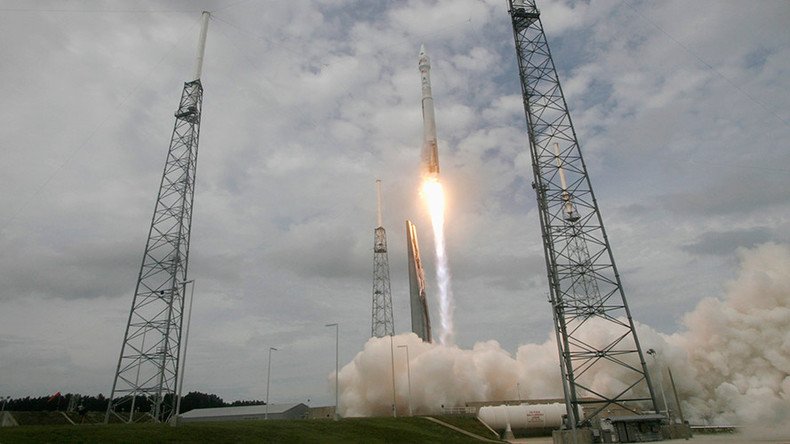 The race to the Red Planet is on, as NASA's Space Launch System reached two milestones in recent days: Crews finished installing work platforms outside the potentially Mars-bound launch vehicle while a group of private space companies endorsed the rocket.
On Thursday, NASA announced that it has finished installing 10 work platforms that will surround the Space Launch System (SLS) in order to provide access to the Orion spacecraft.
The SLS, estimated in 2011 to cost $18 billion through 2017, is touted by NASA as the heavy-launch vehicle planned to take astronauts beyond low Earth orbit and, in later years, to Mars following an estimated initial launch date of November 2018.
"Just a year ago, we were meeting the challenges of getting the first half of the first platform installed,"said Mike Bolger, program manager of NASA's Ground Systems Development and Operations (GSDO). "It's a great testament to the creativity, persistence and hard work of the team, and it's a terrific indicator that GSDO is on track to process the SLS and Orion flight hardware for the first test mission."
With each of the 10 platforms weighing more than 300,000 pounds and measuring 38 feet long and 62 feet wide, they "were mated with two, 60,000-pound rail beam assemblies that allow the platforms to move towards and away from the vehicle," according to NASA.
As construction of the SLS advances, commercial space entities are signaling increased support for NASA's heavy-launch vehicle.
On Tuesday, the Commercial Spaceflight Federation, an association of more than 70 private space exploration organizations, including SpaceX and Blue Origin, publicly announced its approval of the project.
"CSF and its members believe strongly in the exploration of space of all kinds, including commercial purposes," said Alan Stern, chair of the CSF, according to The Space Reporter. "To that end, CSF announced today that we see many potential benefits in the development of NASA's Space Launch System…The SLS can be a resource that benefits commercial spaceflight and makes our future even brighter."
Stern said the SLS will increase partnerships between NASA and the private sector.
SLS has taken criticism from the likes of private space advocacy organizations such as the Space Access Society and the Space Frontier Foundation for high costs and that it could eat up an outsized portion of NASA's budget. In addition, opponents have argued that private space companies can develop similar projects at a lower cost.
SpaceX is currently developing a heavy-launch vehicle, Falcon Heavy, that the company claims will be able to lift 54 metric tons and has a starting cost of $90 million. In comparison, the SLS will be able to carry 70 metric tons, but at a price of $1 billion each launch, according to Bill Gerstenmaier, NASA's associate administrator for human exploration and operations, The Verge reported.
You can share this story on social media: