E-cigarettes could raise risk of heart disease, study says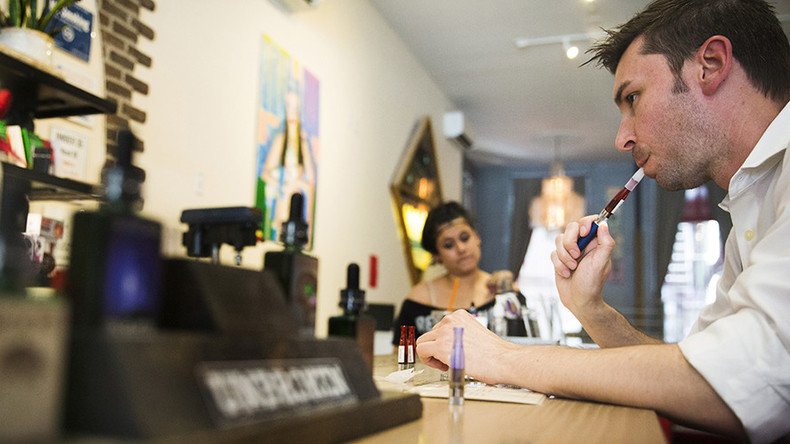 Use of electronic cigarettes devices is linked to an increased risk of heart disease, according to a new study. Experts say the health effects of e-cigarettes have been underexplored.
Researchers at the University of California, Los Angeles (UCLA) found that "habitual e-cigarette use was associated with a shift in cardiac autonomic balance toward sympathetic predominance and increased oxidative stress, both associated with increased cardiovascular risk."
Their new study on the implications for cardiovascular risk among regular e-cigarette users was published this week in the Journal of the American Medical Association.
Working with the hypothesis that regular e-cigarette users would exhibit high oxidative stress, researchers included in the study 23 people considered habitual e-cigarette users between the ages of 21 and 45. The participants were not current tobacco cigarette smokers, and did not have known health issues or take prescription medications. The control group included 19 self-identified healthy non-smokers.
Each of the 42 participants' heart rate variability was measured during both rest and controlled breathing exercises. Researchers also took blood tests to analyze samples for oxidative stress.
The analysis found that e-cigarette users' heartbeat patterns showed high levels of adrenaline or increased cardiac sympathetic activity, while oxidative stress was increased as well. Both are indications of cardiovascular risk, researchers said.
"Electronic cigarettes aren't harmless," said Holly Middlekauff, a cardiologist at UCLA and co-author of the study. "They have real, measurable physiological effects and these physiological effects, at least the couple that we found, have been associated with heart disease."
In an editorial on the risks of e-cigarettes featured in the same issue of the journal, Aruni Bhatnagar of the American Heart Association Tobacco Regulation and Addiction Center, said the study "adds to the case that there may be some residual harm associated with e-cigarettes."
In December, the US surgeon general denounced in a report e-cigarette use among young people, saying that "vaping" has more negative consequences for brain development and health among young people compared to older users.
The report said that "gaps in scientific evidence do exist" regarding e-cigarettes, which "deliver nicotine, flavorings, and other additives to users via an inhaled aerosol."
Use of Electronic Nicotine Delivery Systems among middle school students increased more than eightfold — from 0.6 percent to 5.3 percent — between 2011 and 2015, the US Centers for Disease Control and Prevention says, while 16 percent of high school students were considered current users of e-cigarettes in 2015 compared to 1.5 percent in 2011.
You can share this story on social media: