Graphic pics on cigarette packs may avert 650,000+ deaths in US – study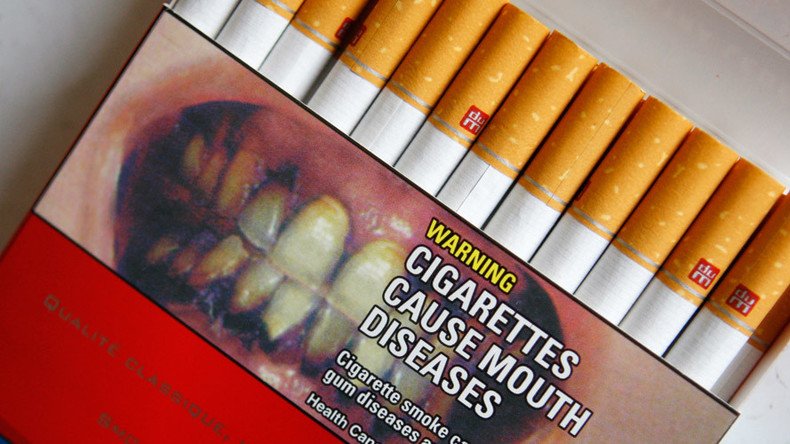 Smoking cigarettes, the key cause of preventable disease and death in the US, accounts for over 480,000 deaths every year, or one in five. Graphic pictorial warnings on cigarette packaging could help prevent over 652,000 of these, a new major study says.
A new study published in Tobacco Journal claims to be the first to estimate the effects of PWLs (pictorial warnings on cigarette packaging) on the health of adults and infants in America.
"While many countries have adopted prominent pictorial warning labels (PWLs) for cigarette packs, the USA still requires only small, text-only labels located on one side of the cigarette pack that have little effect on smoking-related outcomes," the study says, adding that tobacco industry litigation thwarted implementation of a 2011 Food and Drug Administration's (FDA) rule requiring large PWLs.
Researchers examined changes in smoking rates in the UK, Canada, and Australia, where eye-catching PWLs have long been required. Only eight years after PWLs were implemented in Canada, there was an estimated 12-20 percent relative reduction in smoking prevalence, the study found. After PWLs were launched in Australia, the prevalence of adult smoking fell from 21.3 percent in 2007, to 19 percent in 2008; and after implementation in Britain in 2008, smoking prevalence dropped 10 percent in the following year.
More than 70 nations across the world have embraced, or are considering adopting, the World Health Organization's Framework Convention for Tobacco Control to use PWLs front and back of-the-pack pictorial warnings, like a Brazilian picture of a father with a tracheotomy.
Implementing prominent PWLs in the US would reduce smoking prevalence by at least 5 percent, the researchers note.
Over the next 50 years, PWLs are projected to avert 652,800 SADs (smoking-attributable deaths), up to 92,000 low-birth-weight cases, up to 145,000 preterm births, and some 1,000 cases of sudden infant death syndrome, the study found.
"The bottom line is, that requiring large pictorial warnings would help protect the public health of people in the United States," said researcher David Levy, according to Eurekalert.
"There is a direct association between these warnings and increased smoking cessation and reduced smoking initiation and prevalence. That would lead to a significant reduction of death and morbidity, as well as medical cost," he said.
Over 16 million Americans are currently living with a smoking-related disease, according to the Centers for Disease Control and Prevention. An estimated 40 million adults in the United States currently smoke cigarettes.
Despite not being as commonplace as they once were, cigarettes are still to blame for nearly three in ten cancer-related deaths in the US. An estimated 167,133 people died in 2014 of cancers associated with smoking cigarettes, researchers said late last month.
There are over 100 different types of cancer, of which 12 are related to smoking tobacco, and those made up 28.6 percent of all cancer deaths in 2014, according to a study from the American Cancer Society. That same year, the US Centers for Disease Control and Prevention found that tobacco habits were on the decline, falling from 20.9 percent in 2005, to 16.8 in 2014.
You can share this story on social media: