Senate confirms Rex Tillerson for US secretary of state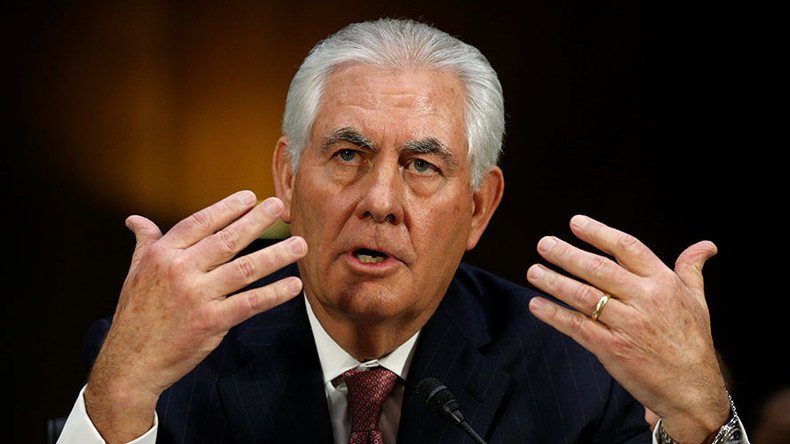 The US Senate has confirmed Rex Tillerson as the new secretary of state in the Trump administration. The 64-year-old former ExxonMobil CEO will also serve as a National Security Council member.
President Donald Trump's pick for secretary of state was approved by a vote of 56-43 on Wednesday.
Among the 56 votes for Tillerson were Angus King (I-Maine) and three Democrats – Mark Warner of Virginia, Joe Manchin of West Virginia and Heidi Heitkamp of North Dakota. Senator Chris Coons (D-Delaware) did not vote.
On January 23, the Senate Foreign Relations Committee voted 11-10 in favor of approving Tillerson to the nation's top diplomatic post.
Ahead of the committee vote, Chairman Bob Corker (R-Tennessee) called Democrats' opposition to Tillerson "a proxy" for their political differences with President Trump.
Opposition to Tillerson has largely focused on his former company's positions pertaining to climate change – and his business ties with Russia, accused by the Democrats of "hacking the election" in favor of Trump.
During the confirmation hearings earlier this month, Tillerson said that "Russia seeks respect and relevance on the global stage," though "its recent activities have disregarded American interests."
The former CEO also took a hard line on Chinese territorial claims in the South China Sea, saying they were as illegal as "Russia taking Crimea" from Ukraine.
While he said that he felt the human impact on climate change could not be quantified, Tillerson did testify to the Senate that "The risk of climate change does exist."
"The consequences could be serious enough that action should be taken," he added.
Nearly 1,000 State Department officials have put their signatures to a "dissent channel" memo condemning Trump's executive order to temporarily suspend the admission of Syrian refugees and restrict admission of travelers from seven Muslim-majority countries.
Asked whether Tillerson will meet with them and hear their concerns, White House spokesman Sean Spicer said the new secretary "has a very open mind," but did not backtrack from Monday's statement that officials who dislike the administration's policy can "either get with the program or they can go."

You can share this story on social media: