Russia dominates Tillerson hearing for secretary of state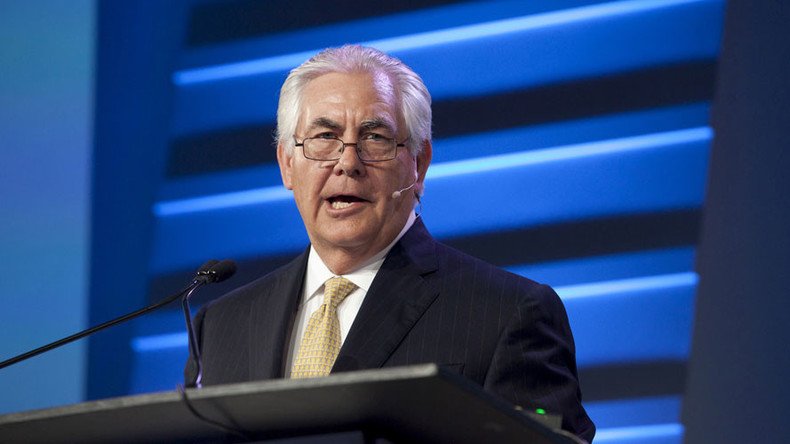 Former ExxonMobil CEO Rex Tillerson, the president-elect's pick for secretary of state, faced numerous questions about his attitudes and past ties to Russia during his nomination hearing. He was also grilled on environmental issues and lobbying for big oil.
Tillerson was asked by Senator John Barrasso (R, Wyoming) about Israel following the Obama administration's decision to abstain on a recent vote at the UN on a resolution condemning Israel's settlement expansion.
"Israel has, is and remains our most important ally and partner in the region," said Tillerson. "The UN resolution is not helpful. I found the Secretary speech quite troubling, and undermining to the government of Israel." Tillerson said with the president-elect they will recommit the US' obligations to Israel.
Defeating ISIS has to be priority of Middle East policy
Senator Johnny Isakson (R, Georgia) asked what the US should do about re-engaging in the Middle East after negotiations were already underway between Syria, Turkey and Russia.
"It is a re-engagement with our traditional allies, and sharing with them where we have to go in Syria," Tillerson. He said absent the US' role, Turkey had to turn to Russia "who is a not a sustainable alliance."
Tillerson said the US had to protect the "innocent people on the ground, and secure their protection, and to defeat ISIS."
"We've had two competing policies, Bashar Assad must go and the defeat of ISIS," said Tillerson. "The clear policy is the defeat ISIS, the next priority which is what is going to be the exit of Bashar Assad, what is going to be the governance structure of Syria and can we have any influence over that. It is going to take many steps."
Another protester said as he was escorted out of the hearing, "We do not want Rex Tillerson as Secretary of State."
'Cybersecurity cannot be delayed'
Senator Cory Gardner (R, Colorado) "how will you prioritize cyber security at the State Department?"
"It is important that we put in place a comprehensive strategy for dealing with cyber threats, the appropriate norms of behavior, use and appropriate response when violated. US will have to lead on this because no one is doing it," said Tillerson. "It is a complicated issue but we cannot delay."
'Climate change does exist,' but unpredictable
Senator Edward Markey (D, Massachusetts) asked Secretary of State nominee about Exxon's support of climate denier policy groups during his time of leadership, and silencing groups critical of Exxon, what assurances can you give the American people who will follow the agreement negotiated by the Obama administration on the climate change agreement?
"If confirmed I am sure there will be opportunity, and I know the president elect will do a fill review on engagement in climate change agreement, I know the president-elect policy is America first, and are there any accords that would be put America at an a disadvantage," said Tillerson. "I think it is important to be engaged in those discussions."
Senator Tim Kaine (D, Virginia) asked Tillerson about investigator reports that exposed Exxon had prior knowledge about climate change while pursuing a policy of fossil fuel extraction. The company also took public positions on downplaying climate change, and financed climate deniers.
"I am no longer able to speak on the company's behalf," said Tillerson. "Do you lack the knowledge to answer my question or are you refusing to answer my question?" asked Kaine.
"A bit of both," replied Tillerson. He said all his ties with Exxon will be severed if he is confirmed as Secretary of State.
Senator Bob Corker (R, Tennessee) asked his opinion on climate change."The risk of climate change does exist," said Tillerson. "The consequences could be serious enough that action should be taken."
When pressed he said the "ability to predict that effect is very limited."
Senator Rand Paul (R, Kentucky cited reports of corruption with USAID with leaders in Egypt and Equatorial Guinea siphoning off funds for personal gain and using the funds to create trade with the US. He cited Egypt buying tear gas from the US and using it on its citizens during the Arab Spring revolution.
Asked about the challenges with corruption of USAID and the difficulty of reforms, Tillerson said "The challenge is never in the intent in our compassion the challenge is in the execution. It is important that we have well developed execution plans, are there other agencies we can partner with to limit theft."
Tillerson pledges no lobbying for big oil
Senator Tom Udall, (D, New Mexico) said Exxon had done business in countries outrightly hostile towards the US, mentioning Exxon interests in Iran, Russian and its large contributions to Washington lobbyists.
"Would you allow Exxon to lobby the State Department?" asked Udall."I would recuse myself from those issues," said Tillerson.
Senator Jeanne Shaheen (D, New Hampshire) asked Tillerson about empowering women and whether he would continue State Department initiatives.Tillerson said will continue initiatives that support women's empowerment. He wouldn't say if he would continue to support the $500,000,000 spent USAID funding for family planning.
'Russia is force to be dealt with'
"Russia more than anything wants to establish its role in the global world order," said Tillerson. "Russia is here, and Russia matters, and they are a force to be dealt with."
"Our value systems are starkly different but I know the Russian people, there is scope to define a different relationship around the conflict we have today. Dialogue is critical," Tillerson said at times Russia will be a partner and at time an adversary.
Senator Ron Johnson (R, Wisconsin) asked Tillerson to explain his comments that Russia is predictable and they don't think like we do.
"My experience with the Russian they are very calculating, they are very strategic in their thinking and they develop a plan," said Tillerson. "They are not unpredictable and if one can step back and see what their long term plan is…the leadership of Russia has a geographic plan that is front of them…they are judging responses…based on the responses they make the next steps…"
Senator Menendez accused Exxon for becoming the in-house lobbyist for Russia over Crimea and opposing sanctions. He asked Tillerson his opinion on sanctions whether he was for them or against them.
"I think it is important to know that when sanctions are imposed they disrupt American business," said Tillerson. "I am stating a fact, sanctions do impact America's business interest, and in protecting America's interest, sanctions are a powerful tool, let's use them well…"
"Does Russia and Syria's targeted bombing on hospitals represent war crimes?" Asked Senator Bob Menendez, (D, New Jersey)
"I would not want to rely solely on what has been reported on the public realm before making that conclusion," said Tillerson.
Senator Marco Rubio (R, Florida) asked Tillerson if Putin was a war criminal because of the bombings in Aleppo, and Chechen."Those are very serious charges made. I would want much more information before reaching a conclusion," said Tillerson.
Rubio asked about the alleged killings of dissidents by the Russian government. Tillerson said again he would need more information. He needed facts, and was not willing to make conclusions.
Foreign Relations Committee Ranking member, Senator Ben Cardin (D, Maryland) asked Tillerson if Russia had the right to take Crimea, he said 'no.'
"It caught me by surprise…as did the coming over the Eastern border of Ukraine, the absence of a very firm forceful response was judged by Russia as a weak response," said Tillerson.О
Tillerson said he would have put Eastern assets on the border, announce the US was going to provide intelligence and air support.
"In carrying out the State Department's diplomacy we need a strong deterrent in our hand…it is useful to have a stick in your hand, whether you use it or not it is useful to have," said Tillerson in response to Senator Cardin asking about sanctions against Russia.
Tillerson promises 'new era of US leadership'
Tillerson told the Senate Foreign Relations Committee that he would help usher in a new era of US leadership on the global stage as America's top diplomat.
"China has emerged as an economic power in global trade, and our interactions have been both friendly and adversarial," he said in remarks prepared for his hearing.
"While Russia seeks respect and relevance on the global stage, its recent activities have disregarded American interests. Radical Islam is not a new ideology, but it is hateful, deadly, and an illegitimate expression of the Islamic faith. Adversaries like Iran and North Korea pose grave threats to the world because of their refusal to conform to international norms."
Tillerson said the US needs an "open and frank dialogue" with Russia, the most urgent step is in "thwarting radical Islam" by "defeating ISIS."
" Russia today poses a danger, but it is not unpredictable in advancing its own interests. It has invaded Ukraine, including the taking of Crimea, and supported Syrian forces that brutally violate the laws of war. Our NATO allies are right to be alarmed at a resurgent Russia. "
Tillerson said the US should also acknowlege the realities about China. It's island-bulding in the South China Seas, and illegal taking of disputed areas "without regard for international norms." He said the country's trade practice have not always followed global agreements.
"We have to deal with what we see, not with what we hope." Tillerson told the Foreign Relations committee.
Exxon ties in focus
Tillerson has spent his entire working life at the big oil multinational corporation, ExxonMobil. He cut ties to Exxon earlier this month to try and stave off conflicts of interest, but his history with the corporation is likely to be a focus of the hearing today.
Tillerson has never held a position in government but as an oil executive has extensive experience dealing with foreign countries having worked for Exxon since 1975. His relationship with Russian President Vladimir Putin is likely to be of interest to the committee. Democrats have pushed for the release of his tax records beyond the financial disclosure form he has already filed with the Senate committee.
Just moments into Tillerson's testimony, a protester spoke out yelling her home was destroyed in Hurricane Sandy, and as she was led out of the hearing said "Rex Tillerson, I reject you!"
Several protesters broke up the hearing with yells."Please don't put Exxon in charge of the State Department. Protect our children and grandchildren."
"Oil is dead. Senators be brave protect the vulnerable."
Outside Tillerson's hearing, protesters rallied, with signs "InvestigateExxon' and 'ExxonKnew', some dressed as T-Rex, a dinosaur, called "Rexxon," a spoof reference to Exxon's CEO.
The peace group, Code Pink, in Lady Liberty fancy dress and a man wearing a dollar bill suit with signs 'ExxonKnew' at Tillerson hearing.
You can share this story on social media: