Trump's secretary of state pick Tillerson on Russia ties in 2012 interview with RT (VIDEO)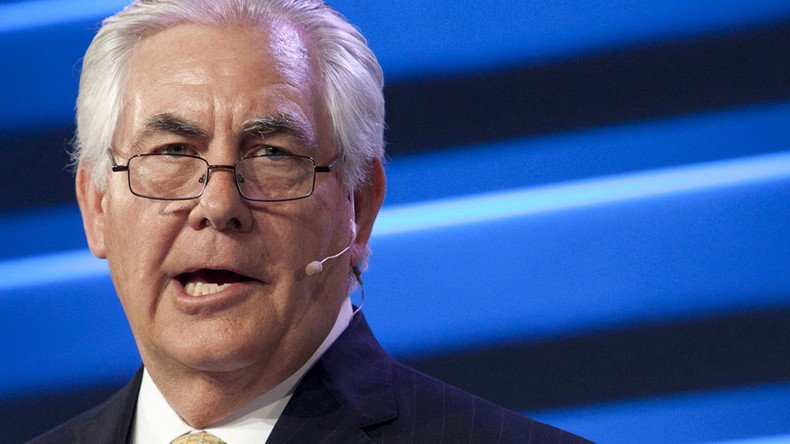 US President-elect Donald Trump has nominated ExxonMobil CEO Rex Tillerson as his secretary of state. Tillerson, who has close ties to Russia, spoke to RT back in 2012 after signing a landmark deal with Russian oil giant Rosneft.
Back then, Tillerson said that bolstering ties with Russia was vital for business. In 2012, he oversaw the singing of a partnership deal between Exxon and Rosneft to develop the Arctic's rich untapped riches as well as the reserves of the Black Sea.
"With these agreements we have a lot on our plate. But we will continue to evaluate other opportunities that might present themselves," he told RT.
The US businessman's expectations for joint the projects with Rosneft in Russia were high four years ago.
"We would expect the Black Sea – in a success case – to bring tens of billions of dollars… and in the success case in the Kara Sea [in Russia's Arctic] we could be into the hundreds of billions of dollars over the life of developing all of the potential prospects that are up there," he said.
Tillerson praised his company's cooperation with Rosneft, saying that the joint project on the Island of Sakhalin in Russia's Far East, which was launched back in 2005, brought "a successful result."
He understood the need for cooperation between Russia and the US, explaining that Exxon and Rosneft "created the Arctic Research Center so that we can lean to collaborate."
"We really do need and want the expertise of many of the Russian scientists and engineers," the Exxon CEO stressed.
At the time, it was also agreed that Rosneft would participate in Exxon's project in Canada, Texas and the Gulf of Mexico.
"We welcome having the Rosneft people come over, get a learning [sic] from how we're doing these things today in the environment in the US, so they can take it back to Russia and do it there," Tillerson said.
He stressed that Exxon was ready to work not only with Rosneft, saying that "there's nothing that precludes us from pursuing other opportunities with others in Russia."
You can share this story on social media: