ND Dem Senator seeks Trump's help to tackle DAPL protesters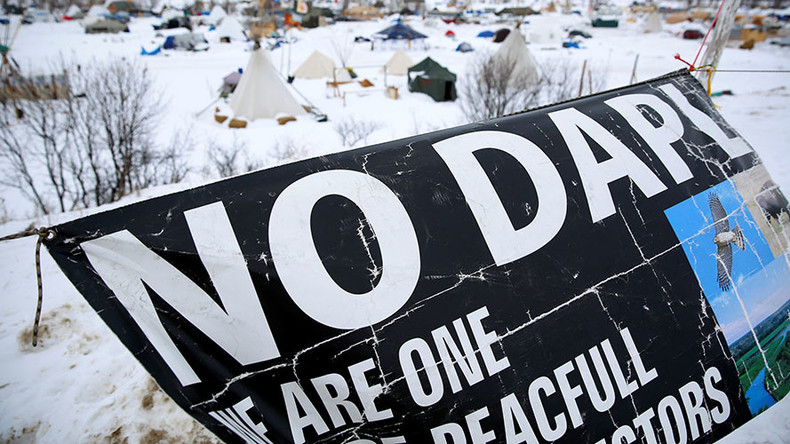 Following President Donald Trump's order removing obstacles to the construction of the Dakota Access Pipeline, North Dakota Democratic Senator Heidi Heitkamp has written to the president calling for federal support in dealing with protesters.
Trump signed orders advancing the project, along with the Keystone XL pipeline, on Tuesday in a move the Indigenous Environmental Network described as "insane and extreme."
READ MORE: 'Insane & extreme': Tribes, farmers react to Trump's pipeline decree
In a letter to Trump following the orders, Heitkamp appealed for federal support for law enforcement agencies who have "engaged in addressing ongoing protest activities."
"North Dakota state and local law enforcement have been managing the response to the protest activities and events related to the protests in the surrounding area for several months now - and at significant cost to state and local departments and governments," Heitkamp wrote.
"After five months of protests and over 600 arrests related to those protests, state and local law enforcement agencies are in need of financial assistance and additional manpower in order to continue to ensure public safety," Heitkamp wrote in the letter, published online by The Daily Caller.
The Dakota Access Pipeline project aims to carry oil from northwest North Dakota to Illinois, passing through South Dakota and Iowa. The pipeline will be built on sacred Native American land and will pass through Lake Oahe, the primary source of drinking water for the Standing Rock Sioux nation in North Dakota.
Heitkamp says that the "necessity to rely upon law enforcement from across the state had led to personnel shortages statewide, cancelled leave, officers stretched thin, and communities throughout North Dakota wondering when their law enforcement will be returned to full strength."
"I recognize the First Amendment right of individuals to peacefully protest, however, previous events have concerned local residents and workers about their personal safety and damage to private property," she added.
The Morton County Sheriff's Office, who have been policing the protests, North Dakota Governor, Republican Doug Burgum, and the state's US Attorney Chris Meyers also sought federal support.
"To introduce rule of law within the camp, we will be asking the Trump administration for much-needed law enforcement support and public safety resources, requests that were ignored by the last administration," the sheriff's department recently wrote on Facebook.
The Standing Rock Sioux Tribe said Trump's order disregards their treaty rights and threatens their safe access to water.
"President Trump is legally required to honor our treaty rights and provide a fair and reasonable pipeline process," said Dave Archambault II, chairman of the tribe. "We are opposed to reckless and politically motivated development projects, like DAPL, that ignore our treaty rights and risk our water.
"Creating a second Flint does not make America great again."
READ MORE: Anti-Trump Greenpeace crane protesters hit with charges of burglary, destruction of property
Environmental protesters made their presence felt in Washington, DC earlier this week when a team of Greenpeace activists unfurled a massive banner saying "RESIST" in view of the White House.
The activists told police they hung the banner because of the administration's decision to grant the go-ahead for the two controversial pipelines and broader misgivings about Trump's environmental policy.
You can share this story on social media: