Iowa pipeline leak brings attention back to Keystone & Dakota Access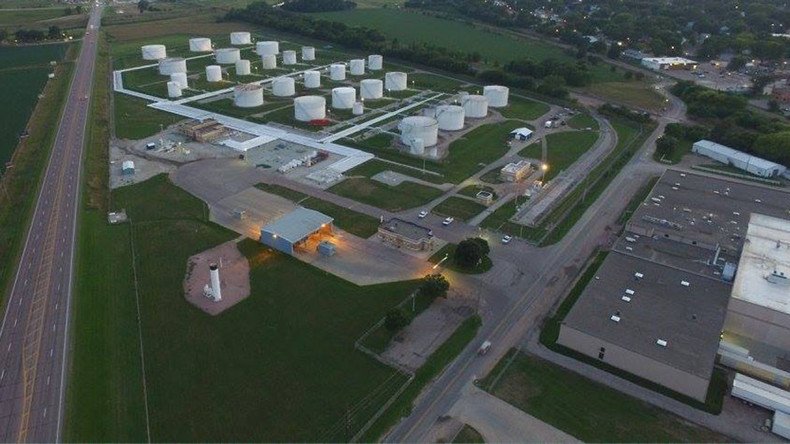 A pipeline in northern Iowa has leaked some 138,000 gallons of diesel fuel, only a day after President Donald Trump moved to advance two controversial pipeline projects.
The leak occurred Wednesday morning on the Magellan Midstream Partners pipeline in Worth County, Iowa, just outside Hanlontown, according to local news station KIMT. Worth County Sheriff Dan Fank said that the road has been closed so local and state authorities can deal with the damage, but there is no current danger to public health, KIMT reported.
"There are no evacuations or injuries associated with the incident," Magellan spokesman Bruce Heine told RT in an email. "We are unsure of the cause of the incident at this time."
On Tuesday, Trump moved to advance the construction of Keystone XL and Dakota Access pipelines, a move one Native American environmentalist group decried as "insane and extreme."
On the same day, the US Department of Justice and the Environmental Protection Agency (EPA) announced they had settled federal charges against Magellan related to three previous pipeline spills in Texas, Kansas and Nebraska.
The Tulsa, Oklahoma-based company agreed to pay a $2 million civil penalty and another $16 million of injunctive relief across its 11,000-mile pipeline system in the Midwest, the Oil and Gas Journal reported, citing court documents.
Magellan was formerly known as Williams Pipe Line Co. LLC. The complaint and consent decree filed on January 19 in the US District Court for Northern Oklahoma held the company responsible for a total of 5,177 barrels of petroleum products spilling into watercourses and thus violating the Clean Water Act.
In February 2011, a Magellan-owned pipeline leaked 482 barrels of gasoline north of Texas City, Texas, contaminating the nearby Pierre Bayou. In December that year, two of the company's pipelines near Nemaha, Nebraska were struck by construction machinery and leaked 650 barrels of diesel fuel, 655 barrels of jet fuel, and 1,529 barrels of gasoline. The consent decree mandated the company to aid in the cleanup of Jarvis Creek, which has still not been completed.
The third incident happened in El Dorado, Kansas in May 2015, leaking 1,861 barrels of diesel fuel and affecting the nearby Constant Creek.
The settlement requires Magellan to complete the Nebraska cleanup effort, train its staff better to prevent damages from third parties, address "selective seam corrosion" and update management practices and company information.
You can share this story on social media: