'Insane & extreme': Tribes, farmers react to Trump's pipeline decree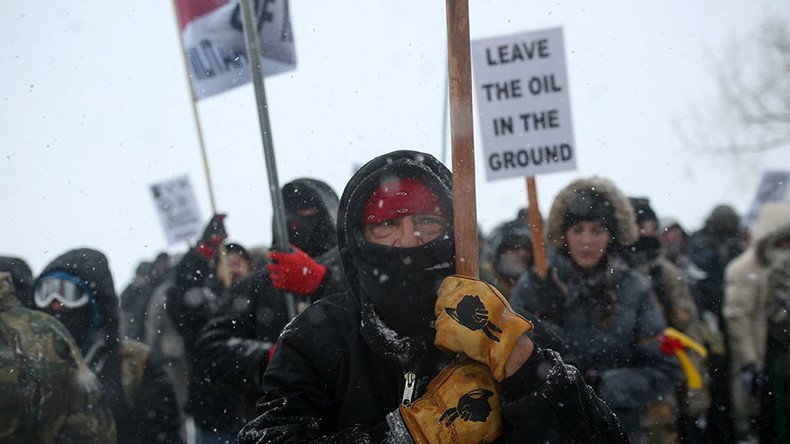 Native Americans and environmental activists voiced their alarm over President Donald Trump's decision to advance work on the Keystone XL and Dakota Access pipelines. Both projects were reluctantly halted by the Obama administration after many protests.
Keystone XL was intended to speed up the flow of oil from Canada's Alberta tar sands to US refineries, but in November 2015 President Barack Obama declined to approve it, calling it politically controversial.
The Dakota Access Pipeline (DAPL), intended to carry crude oil from the Bakken shale fields to Illinois, has been nearly completed aside from a segment running under Lake Oahe, which supplies drinking water to the Standing Rock Sioux Tribe in North Dakota.
Demonstrators gathered outside the White House on Tuesday afternoon. Into the evening, protesters also spoke out in Los Angeles, Seattle and New York City.
In downtown Seattle, around 1,000 protesters attended "an emergency rally" Tuesday night, according to KIRO. Many also targeted a local Wells Fargo, for the big bank's financial role in the construction of the Dakota Access Pipeline.
Many more took over the traffic intersection of Columbus Circle in Manhattan.
Dozens came out to Westwood in Los Angeles, chanting outside the Federal Building.
Months of protests from Native Americans, environmentalists and even military veterans pressured the Obama administration to order a halt to DAPL construction in December 2016. On Tuesday, however, newly inaugurated President Trump signed a presidential memorandum calling for the construction to resume, pending certain qualifications.
"President Trump is legally required to honor our treaty rights and provide a fair and reasonable pipeline process," said Dave Archambault II, chairman of the Standing Rock Sioux Tribe. "Americans know this pipeline was unfairly rerouted towards our nation and without our consent."
Archambault warned that the existing pipeline route not only infringes on the tribe's treaty rights, but any spills from DAPL risk contaminating the water used by both the tribe and some 17 million Americans living downstream.
"Creating a second Flint does not make America great again," Archambault added.
"We will be taking legal action, and will take this fight head on. We urge you to fight and stand tall besides us," the tribe said on its Facebook page, asking for support to influence the environmental impact statement on the Lake Oahe segment.
"Please also call your congressional representatives and let them know that the people do not stand behind today's decision. Stand together as one and we will not fall," the post said.
Trump's decision was "insane and extreme, and nothing short of attacks on our ancestral homelands," Indigenous Environmental Network organizer Dallas Goldtooth told Indian Country Media Network. "The executive orders demonstrate that this administration is more than willing to violate federal law that is meant to protect indigenous rights, human rights, the environment and the overall safety of communities for the benefit of the fossil fuel industry."
"These attacks will not be ignored, our resistance is stronger now than ever before and we are prepared to push back at any reckless decision made by this administration," Goldtooth said.
News that Keystone XL was back on the table was met with concern by Nebraska activists who had successfully campaigned against it.
"Foreign tar sands pipelines headed to the export market have no place in the Heartland," said Jane Kleeb, president of Bold Alliance. "The President should focus on American energy independence rather than taking land away from farmers using eminent domain for private gain."
"Nebraskans are strong, independent people who will not be intimidated," landowners Tom and Cathie Genung told Bold Nebraska. "We stood up to TransCanada before and we will do it again. Our newly elected president has no credibility and TransCanada has no permit."
A social media campaign is already under way, with hundreds of Twitter users posting an identical message calling the Dakota Access Pipeline "immoral and unethical."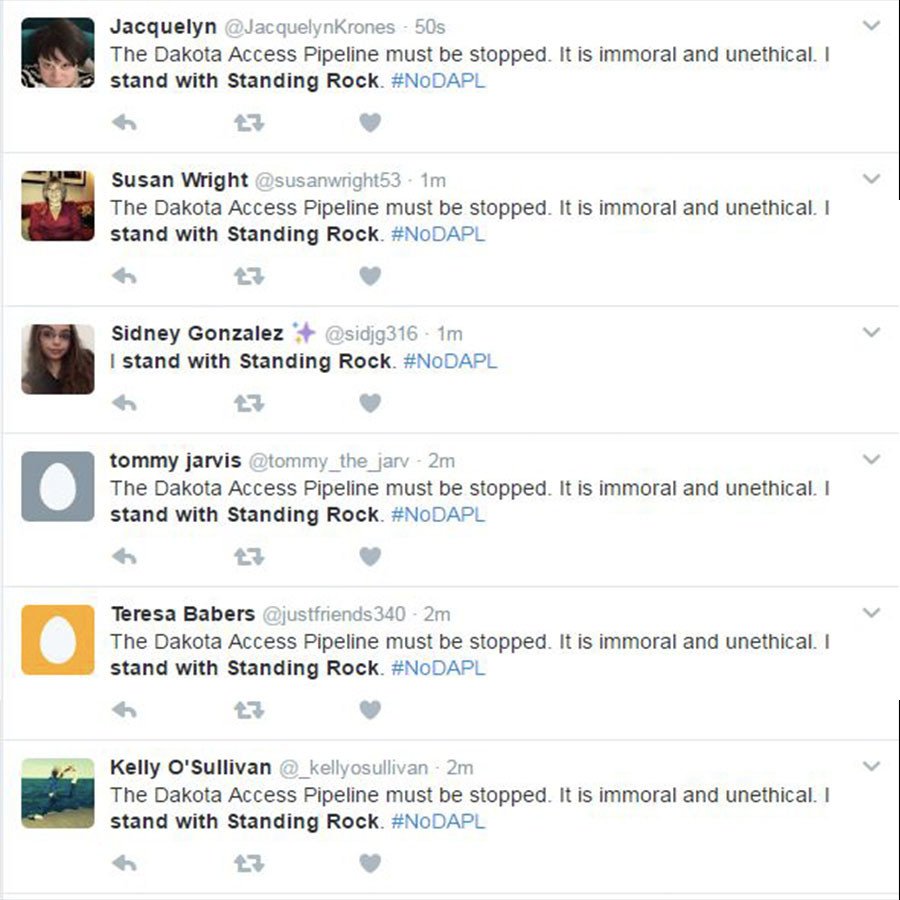 You can share this story on social media: