Attacks on Trump pointless – Elon Musk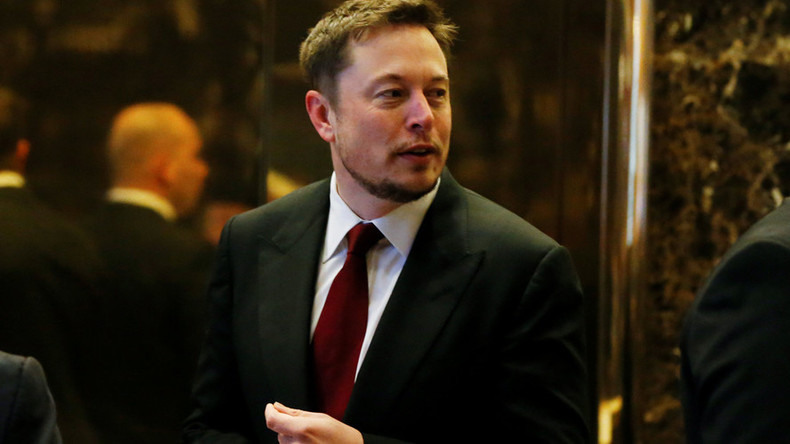 In a Wednesday interview, billionaire inventor and tech entrepreneur Elon Musk said that constant attacks and protests against US President Donald Trump will achieve little in tackling issues such as climate change.
Speaking to the website Gizmodo, Musk said that the president won't yield to protesters and is more likely to be swayed by reason.
"This is something we need to strive for and the more voices of reason that the President hears, the better," the mogul told reporters via Twitter Direct Message. "Simply attacking him will achieve nothing. Are you aware of a single case where Trump bowed to protests or media attacks? Better that there are open channels of communication," he added.
A number of President Trump's policy positions have stirred controversy, including his stance on climate change, which he has referred to as a "hoax" since as far back as 2012.
Shortly after Trump's inauguration, the White House's website page on climate change disappeared. Trump has also signaled his intention to repeal Barack Obama's Clean Power Plan.
Musk, who is an advisor on Trump's Strategic and Policy Forum, is known for supporting clean energy through ventures such as Tesla Motors, which builds electric cars, and SolarCity, which focuses on renewable energy.
"CO2 [carbon dioxide] isn't exactly pollution, but it does cause warming and slight acidification of water if very large quantities are dug from deep underground and added to the surface cycle," he explained, adding "we won't ever go to zero CO2, but the rate over time should be dropped far below what it is today."
Musk proposed achieving this through a "carbon tax" that would progressively tax activities producing greater carbon more heavily.
"Start low and increase it until the desired outcome is achieved. This can be offset by a reduction in other taxes, like sales tax, which is quite regressive. This is analogous to taxing cigarettes and alcohol more than fruits and vegetables, which everybody agrees makes sense. We should have higher taxes on the things that science says are probably bad for us than those that are probably good for us," he said.
On Tuesday, Musk also posted a series of tweets in support of former ExxonMobil CEO Rex Tillerson, who will likely be secretary of state under Donald Trump.
In his interview with Gizmodo, Musk expanded upon his tweets describing Tillerson as a "competent" CEO who also supports the idea of a carbon tax. Other members of Trump's cabinet team have been described as climate change skeptics, such as his pick to head the Environmental Protection Agency head, Scott Pruitt, though Pruitt did concede that human activity is affecting the climate "in some manner" during a hearing before Senator Bernie Sanders.
READ MORE: SpaceX launch as filmed from 8,500ft above ground (VIDEOS)

South African-born Musk was appointed to Trump's Strategic and Policy Forum in December of 2016. In addition to founding the online payment system PayPal, which he later sold to eBay, Musk is also known for ambitious projects such as SpaceX, an aerospace company which ultimately aims to get humans to Mars. With an estimated net worth of $13.1 billion, Musk is currently ranked by Forbes as the 85th richest person on the planet.
You can share this story on social media: