EPA research to get 'case by case' vetting before publication – admin official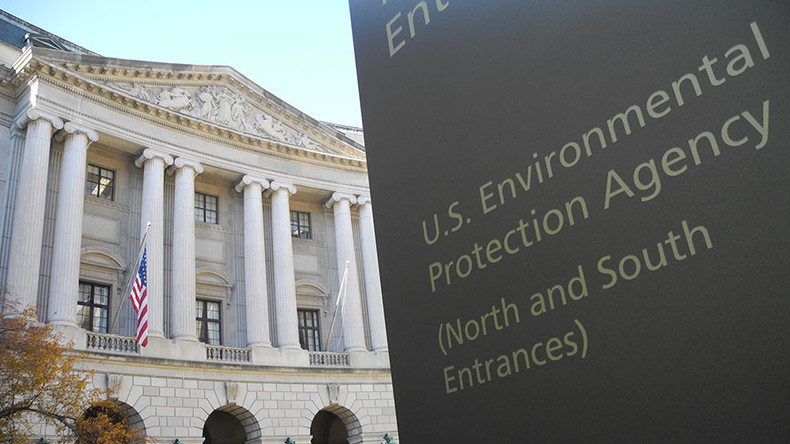 Prior to the outside release of any scientific findings, researchers with the US Environmental Protection Agency will likely need approval from Trump administration officials for the foreseeable future, an EPA transition spokesman said.
At least during the early days of the Trump administration, EPA research that will be disseminated outside the agency will be subject to some form of supervision from the Trump administration on a "case by case basis," Doug Ericksen, spokesman for Trump's EPA transition effort, told NPR.
"We'll take a look at what's happening so that the voice coming from the EPA is one that's going to reflect the new administration," Ericksen said, adding that he does not know whether the review policy will become a permanent procedure.
"We're on Day 2 here... You've got to give us a few days to get our feet underneath us," he said.
The notice comes on the heels of new policies instituted earlier in the week that federal agencies such as the EPA, the US Department of Agriculture (USDA), the Department of Health and Human Services (HHS) and the Interior Department, among others, must ‒ at least temporarily ‒ limit employee media or public communication releases in a variety of ways that differed for the various agencies.
The communication policies received much criticism, especially from the scientific community.
"Any efforts to interfere with scientific agencies' ability to communicate with Congress, federal or state agencies or the public concerns us," Stefano Bertuzzi, chief executive of the American Society for Microbiology, told BuzzFeed News.
However, public outcry led the USDA to rescind an order issued to its scientists that they could not communicate with the public via "news releases, photos, fact sheets, news feeds, and social media content," Buzzfeed reported.
On Wednesday, White House spokesman Sean Spicer told reporters that such orders have not come directly from the White House, but from the agencies themselves, according to internal policy.
Oklahoma Attorney General Scott Pruitt, Trump's nominee to head the EPA and longtime critic of the agency's past directives on climate change, is still awaiting Senate confirmation. A grant freeze at the EPA, a policy announced on Monday, is a way for the incoming presidential administration to get a hold on federal action, said Myron Ebell, who ran the EPA transition for the Trump administration.
"They're trying to freeze things to make sure nothing happens they don't want to have happen, so any regulations going forward, contracts, grants, hires, they want to make sure to look at them first," Ebell told ProPublica. "This may be a little wider than some previous administrations, but it's very similar to what others have done."
Ericksen, the Trump administration EPA transition team spokesman, told NPR that message control during presidential administration transitions is not abnormal; however, scientific experts said this effort seems more intense than usual.
"It's certainly the case that every administration tries to control information, but I think that what we're seeing here is much more sweeping than has ever been done before," said Andrew Light, a distinguished senior fellow in the Global Climate Program at the nonpartisan World Resources Institute, according to NPR. "And in particular, it's noteworthy that it seems to be aimed at a cluster of science-driven agencies that primarily work on the environment and climate change."
Pledging historic transparency upon taking office in 2009, the Obama administration often targeted open government and press freedoms, including through its "Insider Threat Program," which was an effort to monitor and detect any dissension among government employees in response to historic data leaks by Chelsea Manning and Edward Snowden.
The Obama administration's "war on [whistleblower media] leaks and other efforts to control information are the most aggressive I've seen since the Nixon administration," said a 2013 report on transparency and the press by the Committee to Protect Journalists.
"Six government employees, plus two contractors including Edward Snowden, have been subjects of felony criminal prosecutions since 2009 under the 1917 Espionage Act, accused of leaking classified information to the press—compared with a total of three such prosecutions in all previous US Administrations," CPJ special report said.
Earlier that year, the Society of Environmental Journalists called the EPA "one of the most closed, opaque agencies to the press."
In 2014, the Thomas Jefferson Center for the Protection of Free Expression awarded the White House Press Office its "Jefferson Muzzle" distinction, given to government agencies that are "responsible for some of the more egregious or ridiculous affronts to First Amendment principles."
You can share this story on social media: