Senate confirms Mike Pompeo as CIA director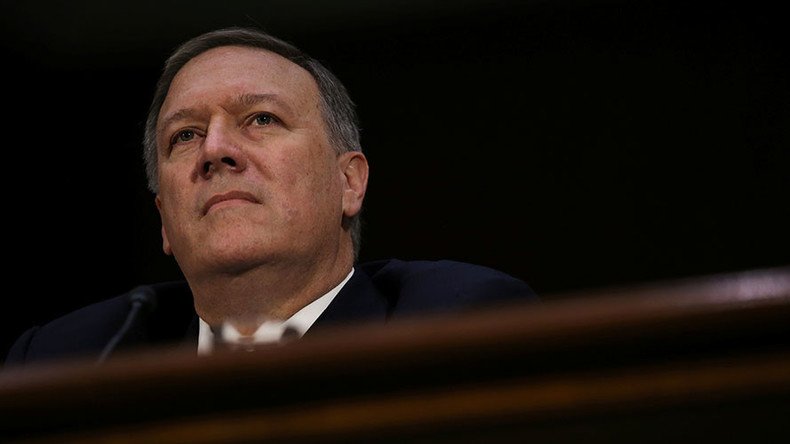 President Donald Trump will have his top choice to head up the CIA. The Senate confirmed Representative Mike Pompeo (R-Kansas) to lead the spy agency by a vote of 66-32. It the closest of the three confirmation votes held so far.
Senators Richard Blumenthal and Chris Murphy, both Democrats from Connecticut, are the outstanding votes; they have been delayed by weather, C-SPAN reported.
The Senate was originally scheduled to vote on the nomination Friday, but his confirmation was delayed to Monday evening due to partisan sniping. In a deal between parties, Republicans reportedly agreed to push back the start of Pompeo's confirmation hearing by a day; in return, the Democrats were to allow the Senate to vote on the congressman on Inauguration Day, according to the Weekly Standard.
On Friday, Senate Minority Leader Chuck Schumer of New York reneged on that pact after several Democratic senators sought a delay in the vote so there could be more debate. However, a Democratic aide disputed that there was ever such a deal.
Despite the lack of a vote, Pompeo was with Trump as the new president visited the CIA headquarters on Saturday to speak with agency employees. Trump was effusive as he described Pompeo's accomplishments to the 400 attendees.
"I met Mike Pompeo, and it was the only guy I met. I didn't want to meet anybody else. I said, cancel everybody else. Cancel," he said. "Now, I must say, I didn't mind cancelling eight appointments. That wasn't the worst thing in the world. But I met him and I said, he is so good. Number one in his class at West Point."
"And everything he's done has been a homerun. People like him, but much more importantly to me, everybody respects him," Trump added. "And when I told Paul Ryan that I wanted to do this, I would say he may be the only person that was not totally thrilled ‒ right, Mike? Because he said, I don't want to lose this guy."
After his confirmation hearing, Pompeo caused controversy when his written answers to senators' questions contradicted his response during the hearing that he would "absolutely not" bring back waterboarding and other enhanced interrogation techniques, the Independent reported.
"Moreover, I can't imagine that I would be asked that," he added.
In his written response, however, Pompeo said that he would review whether the ban on waterboarding "is an impediment to gathering vital intelligence to protect the country."
We should be greatly troubled by giving power to Rep. Pompeo who has stated that he wants to expand the surveillance state, not rein it in.

— Bernie Sanders (@SenSanders) January 23, 2017
Pompeo has a background in the military and in intelligence. He did indeed graduate first in his class from the US Military Academy at West Point. He then served in the Army, where he patrolled the Iron Curtain. After getting out of the military, he graduated from Harvard Law School.
In January, he was sworn into his fourth term in Congress, where he serves on the Energy and Commerce Committees. He also served on the House Select Benghazi Committee.
The Senate confirmed Defense Secretary James 'Mad Dog' Mattis 98-1 and Homeland Security Secretary John Kelly 88-11 on Friday. Senator Jeff Sessions (R-Alabama) abstained from those two votes, as he has been nominated as member of Trump's Cabinet.
You can share this story on social media: