Pink 'pussy hat' march in Washington for women's rights after Trump inauguration (PHOTOS)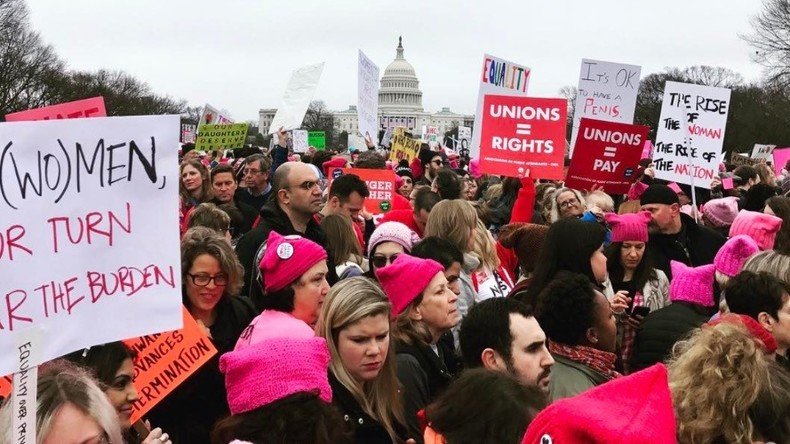 Thousands of people - many wearing pink 'pussy hats' - have turned out in support of women's rights in Washington DC as part of a show of action on Donald Trump's first day as US president.
Reports on Saturday suggest that as many as 500,000 people have turned up to make the walk from Independence Avenue towards the White House on Pennsylvania Avenue.
According to Women's March organizers, the event aims to protect human rights which have been "threatened" and "insulted" during the recent US presidential election.
"The Women's March on Washington will send a bold message to our new government on their first day in office, and to the world that women's rights are human rights," the group said online.
"We stand together, recognizing that defending the most marginalized among us is defending all of us."
READ MORE: 'Grab them by the p***y': Leaked audio of Trump cause GOP backlash

First aid sites and lactation tents have been set up along the two-mile walk to accommodate all people hoping to take part in the demonstration.
Images show throngs of people making their way to the starting point on the city's metro and bus services.
Many women were pictured sporting so called pink 'pussy hats'.
Hillary Clinton, Trump's opponent during the presidential race, tweeted a message of support for the demonstration.
"Thanks for standing, speaking & marching for our values. Important as ever. I truly believe we're always stronger together."
Meanwhile, conservative think tank Heritage Foundation claims the march's call for affordable and safe abortion is actually "silencing a large number of pro-life women."
Trump's inauguration as US president saw violent skirmishes break out in parts of Washington on Friday.
The billionaire businessman regularly stoked racial and gender outrage for controversial comments during his presidential campaign. In a 2015 speech, for instance, he labelled Mexican immigrants to the US as criminals and rapists.
His bid for the White House also saw him managing to sidestep scandal.
READ MORE: Trump's porn film past pops up after Twitter 'sex tape' rant (PHOTO, VIDEO)

One incident came with a recording of him bragging about trying to have sex with a married woman, during which he uttered the infamous phrase: "grab them by the p***y."
Audio recording of a 1997 Howard Stern interview also emerged during his campaign, revealing how Trump spoke disparagingly about a former Miss Universe winner's eating habits.
"She gained about 55 pounds in nine months – she was like an eating machine. I think she ate a lot of everything," he said of Alicia Machado.
You can share this story on social media: