Wishful thinking: CNN dwells on possibility Obama official might take over if Trump is killed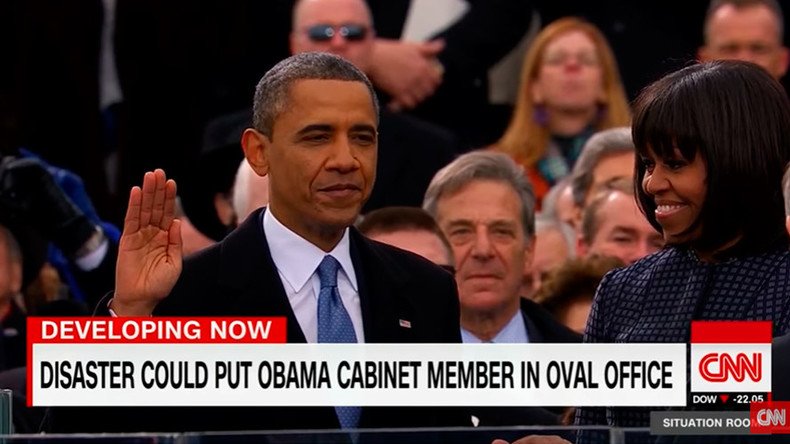 CNN has aired a segment speculating what might happen if a "disaster" wiped out everyone present at the inauguration of President-elect Donald Trump, contemplating a scenario that would leave an Obama administration official in charge.
"Disaster could put Obama Cabinet member in Oval Office" was the chyron that ran across the bottom of the screen during a report by CNN contributor Brian Todd, featured during the January 18 broadcast of The Situation Room with Wolf Blitzer.
The report envisioned a scenario in which Speaker of the House Paul Ryan as well as President pro tempore of the US Senate, Orrin Hatch, perished along with Trump and Vice President-elect Mike Pence, pushing the chain of succession to the cabinet.
Because none of Trump's Cabinet picks have been confirmed by the Senate yet, the above scenario would result in acting Secretary of State Thomas Shannon becoming the new president.
Shannon currently serves as undersecretary of state for political affairs. Incoming White House spokesman Sean Spicer confirmed on Thursday that Shannon was among some 50 Obama administration officials who will not be replaced right away, in order to ensure the smooth functioning of the US government during the transition.
CNN's report drew criticism from the conservative news organization Breitbart, who accused the network of "dreaming up scenarios whereby the Obama administration can keep power." Many Trump supporters were outraged as well.
The report is unlikely to endear CNN to the Trump administration. Just last week, Trump blasted CNN as "fake news" during a press conference in New York City, refusing to take a question from the network's reporter Jim Acosta.
This isn't the first chyron controversy for CNN. In November, the network was flooded with angry comments after its coverage of white nationalist Richard Spencer included a chyron that said "Alt-right founder questions if Jews are people."
That was a reference to Spencer using the phrase "soulless golems" in a speech at his organization's conference in Washington, DC. While most critics denounced the chyron as anti-Semitic and attacked network for ever posting it, others pointed out that it was factually wrong as well. On this particular occasion, Spencer was not referring to Jews, but questioning the humanity and intelligence of mainstream media reporters.
You can share this story on social media: