Trump slams BuzzFeed as 'failing pile of garbage,' rejects CNN question over 'fake' report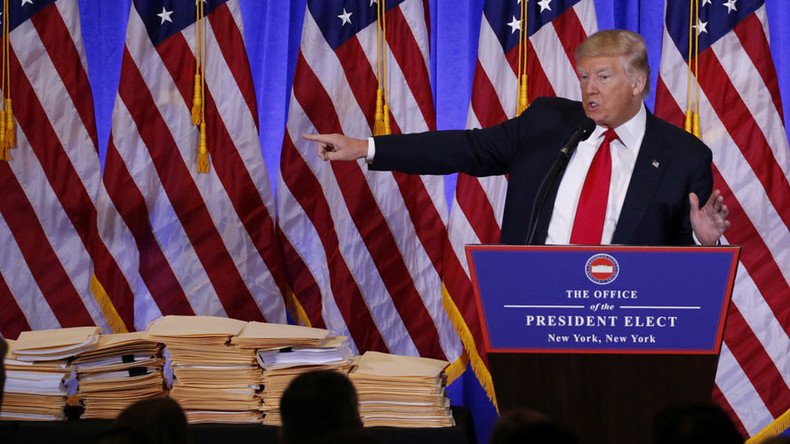 President-elect Donald Trump called BuzzFeed a 'failing pile of garbage' over the report that Moscow has been blackmailing him over past sex adventures in Russia. He also refused to answer a question from CNN, another outlet that published the report.
"Be quiet. I'm not going to give you a question. You are fake news," Trump told CNN reporter Jim Acosta at the press conference in New York on Wednesday, where he announced transferring the company to his sons to avoid conflicts of interest.
On Tuesday, CNN reported that a memo claiming that Russia had compromising materials on Trump was shared with the outgoing president and the president-elect by the US intelligence community.
Later in the day, Buzzfeed News published the entire set of memos, which were purportedly "prepared for political opponents of Trump by a person who is understood to be a former British intelligence agent." The dossier had been circulating among elected officials, journalists and the intelligence community for weeks, according to Buzzfeed's Ken Bensinger.
Included in the report was the accusation that Trump has "personal obsessions and sexual perversion," including for graphic sex acts.
"It is disgraceful" that the US intelligence agencies allowed the two-page report that was "false and fake and never happened" to be made public, Trump said of the report published by BuzzFeed, which he called a "failing pile of garbage."
Intelligence agencies should never have allowed this fake news to "leak" into the public. One last shot at me.Are we living in Nazi Germany?

— Donald J. Trump (@realDonaldTrump) January 11, 2017
CNN, which also published the report, said that they tried to get a comment on the story from Trump's team for "more than half a day."
"What I suspect you're seeing here is an attempt to discredit" genuine news sources, said CNN host Jake Tapper immediately after Trump's press conference.
Tapper added that he could understand why the president-elect was upset by uncorroborated accusations being posted on the internet.
"I would be too," he said. "That's why we didn't publish any of the details."
Acosta later tweeted that he got another reporter to ask the question. He told CNN that Trump's spokesman Sean Spicer threatened to eject him from the press conference if he tried asking another question.
Fortunately ABC's Cecilia Vega asked my question about whether any Trump associates contacted Russians. Trump said no.

— Jim Acosta (@Acosta) January 11, 2017
CNN has sought some distance from BuzzFeed on Wednesday, saying they were "fully confident" in their own reporting and calling on Trump and his team to "identify, specifically, what they believe is inaccurate" in the network's coverage.
You can share this story on social media: