Leak of report on Trump's alleged ties with Kremlin 'totally wrong' - McCain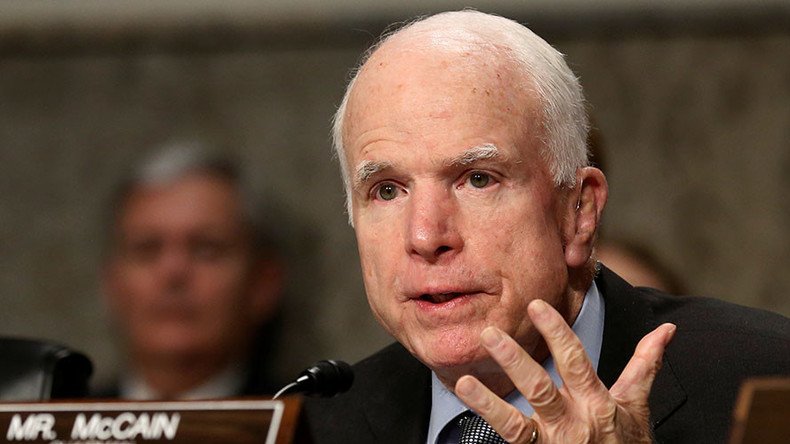 Donald Trump "has a point" when lashing out at the leak of the unverified dossier on his alleged ties with Moscow, US Republican Senator John McCain, has said, stressing the leak of the "damning" document is "totally wrong."
"The president-elect has a point," McCain said in an interview with Fox News Channel's 'Fox & Friends.'"The fact that this un-validated, to say the least, document was leaked is somebody's responsibility. So the president-elect does have a point here."
The Republican lawmaker said he also received the dossier, but "made no judgment on it" and "handed it over to the FBI."
Text of the report in question appeared last week on the BuzzFeed website, with parts of it also reported on by CNN. The document alleged cooperation between Donald Trump's camp and Russia, and also claimed that Moscow has been blackmailing the US president-elect for past sex adventures. However, the allegations, reportedly compiled by a former UK intelligence agent Christopher Steel, have not been proved.
Earlier, Trump fiercely rejected the allegations in the report labelling it "fake news." McCain said that having such a paper out in the public harms the US President. It was "totally wrong to have that out an un-validated document, which is damming out there among the American public without having any validation whatsoever."
"It's harmful to the president of the United States," he noted.
On Monday, Trump posted a tweet asking whether the outgoing CIA director John Brennan might be behind the leak amid strained relations between the two. The tweet was in response to Brennan's statement on Trump's attitude to Russia.
"He's [Trump] going to have the opportunity to do something for national security as opposed to talking and tweeting," Brennan said.
Trump in turn branded the CIA chief as "the leaker of fake news."
much worse - just look at Syria (red line), Crimea, Ukraine and the build-up of Russian nukes. Not good! Was this the leaker of Fake News?

— Donald J. Trump (@realDonaldTrump) January 16, 2017
On January 11, US Director of National Intelligence James Clapper said US spy agencies had "not made any judgment that the information in this [leaked] document is reliable."
You can share this story on social media: