Trump picks VA official to reform troubled agency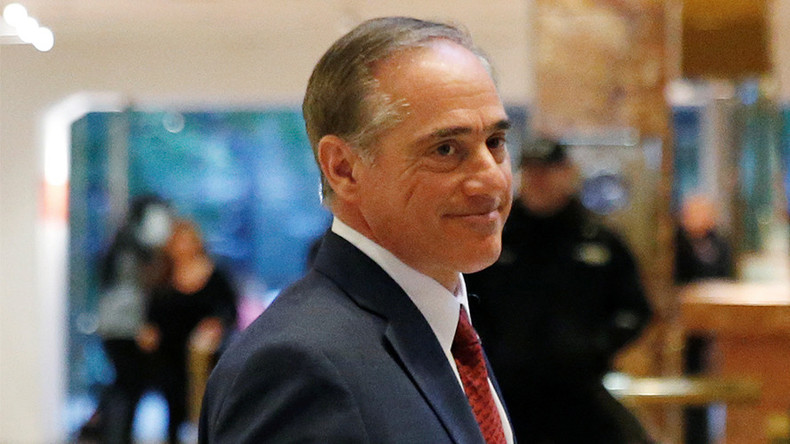 President-elect Donald Trump's announcement of the new Veterans Administration chief almost got lost during the eventful New York press conference. David Shulkin is currently an undersecretary at the VA – and not a veteran himself, critics pointed out.
"I'll tell you about David: He's fantastic," Trump told reporters on Wednesday. "He will do a truly great job."
"Our veterans have been treated horribly, they're waiting in line for 15, 16, 17 days, cases where they go in and they have a minor early stage form of cancer, they can't see a doctor. By the time they get to a doctor, they're terminal," Trump said. "It's not going to happen" under his administration, he added.
After spending 30 years in the private medical sector, Shulkin was appointed undersecretary for health at the VA in July 2015. He set out to reform the gargantuan administration, whose nearly 300,000 employees are charged with care for 8.76 million veterans at 1,700 care sites across the US.
Shulkin told USA Today in a recent interview that he reduced the number of veterans waiting for urgent care has been reduced from 57,000 to 600, and pushed to provide same-day care at all Veterans Administrations medical centers by the end of 2016.
He has never served in the US armed forces, however, which Representative Seth Moulton (D-Massachusetts) is already holding against him. A Dallas Morning News correspondent has also pointed out that relying on a VA insider is hardly "draining the swamp," as the president-elect famously promised.
We've never had a non-vet lead the VA. I hope Shulkin has what it takes to represent our vets and fight Trump's misguided plan to privatize.

— Seth Moulton (@sethmoulton) January 11, 2017
Draining the swamp? Trump names new VA secy to clean up its "terrrible" treatment of vets, David Shulkin, a top official there now

— Carl P. Leubsdorf (@CarlPLeubsdorf) January 11, 2017
Senators Patty Murray (D-Washington) and Jon Tester (D-Montana), ranking member on the Senate Veterans Affairs committee, have signaled they would be willing to back Shulkin as VA head, with reservations about Trump's rumored plans to privatize many services.
Hearing from Dr. Shulkin on his vision for this role & how he will navigate any misguided attempts to privatize VA, will be critical.

— Senator Patty Murray (@PattyMurray) January 11, 2017
As Ranking Member of the VA Committee, I look forward to meeting with Dr. Shulkin very soon to discuss #veterans priorities. #mtpolpic.twitter.com/6vuWBOjosz

— Senator Jon Tester (@SenatorTester) January 11, 2017
According to USA Today, Shulkin has said he favored a hybrid model under which the VA would provide specialized care it is best qualified for – such as treating traumatic brain injuries, loss of limb or post-traumatic stress disorder (PTSD), while farming out services like obstetrics and gynecology to the private sector.
Shulkin's previous experience at the VA has won him an open endorsement from Senator Richard Blumenthal (D-Connecticut), as well as from Senator John McCain, a vocal Trump critic and a Vietnam War vet.
Among Cabinet noms lacking experience, Dr. Shulkin is welcome exception. He must redouble efforts to improve veteran services if confirmed.

— Richard Blumenthal (@SenBlumenthal) January 11, 2017
Dr. David Shulkin has been committed to serving veterans at the VA - look fwd to working w/ him to improve health care for our veterans

— John McCain (@SenJohnMcCain) January 11, 2017
The VA has been under fire since 2014, after it emerged that many veterans had died waiting to receive medical care. Secretary Eric Shinseki resigned over the scandal and the agency faced federal investigations over its record-keeping, intimidation of whistleblowers, and over-prescription of opiates.
A March 2016 report found that over 125,000 veterans had been denied coverage because of "bad papers" – less than honorable discharges from service. In November, it was discovered that a dentist at a Wisconsin VA facility may have put 600 veterans at risk of HIV and Hepatitis C by using improperly sterilized instruments.
You can share this story on social media: