WikiLeaks & Clinton aide Tanden clash in Twitter spat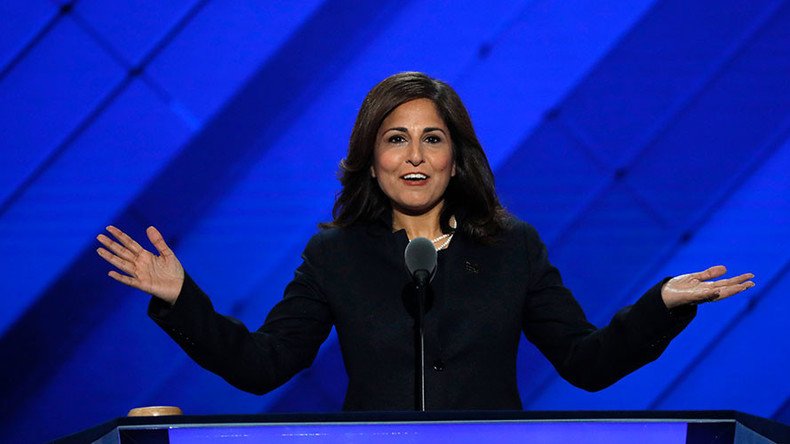 Neera Tanden, Clinton aide and regular feature in the WikiLeaks of Clinton campaign chair John Podesta's emails, has found herself in a Twitter spat with the WikiLeaks Task Force.
READ MORE: 'Bill & Hillary have the worst judgement': Close adviser slams Clintons in latest Podesta leaks
"Hard to argue that Wikileaks had no impact on the election when Trump used it multiple times a day to attack," Tanden wrote on Twitter late Saturday, linking to a Think Progress article citing how many times Donald Trump mentioned WikiLeaks in the last month of the election.
Think Progress is part of the Center for American Progress (CAP), a think tank created by Podesta with Tanden as its president.
The WikiLeaks Task Force, the official support account for the whistleblowing website, replied to Tanden's tweet, drawing her attention to Friday's Twitter poll by journalist John Harwood which asked whether people believed the US intelligence agencies or WikiLeaks over allegations of Russian hacking.
The poll found an overwhelming 83 percent of 84,115 voters trust WikiLeaks over the intelligence agencies.
Tanden responded by saying WikiLeaks claimed it had affected the election with its leaks. "Isn't it your posture that WikiLeaks did affect the election? Wasn't that the point of going only thru Election Day?" she asked.
"No. WikiLeaks has stated that it is impossible to tell, but that many millions read how the DNC acted unethically," the Task Force responded.
Tanden then asked, "Why did you stop publishing on Election Day if affecting the election wasn't your goal?"
"Podesta was hacked in March. Why wait to release until last month unless purpose was maximum impact on election?" she tweeted again.
As others joined the Twitter conversation, some sided with Tanden, while others claimed the Democrats themselves had ruined their chances in the election and pointed to WikiLeaks' long track record of accuracy.
When a commenter tweeted that Hillary Clinton "should have been more careful about that server @BarackObama said he knew nothing about," Tanden tweeted "Man, you're a sucker for fake news."
The user had been alluding to evidence revealed in the Podesta emails that President Obama knew about Clinton's use of a private email server as secretary of state, despite stating that he had found out through the media along with everyone else.
To refute Tanden's claims that "Hillary's server [was] never hacked," the commenter provided a link to a Politico article from October 2015 detailing how there had been a number of attempts made to hack Clinton's server.
Some tweeters called on Tanden to give up and accept the results of the election, to which Tanden responded that the election was "tainted."
Another tweeter asked whether the Clinton campaign had ever referred to Trump's leaked tax returns during the election, while yet another reminded Tanden of Clinton's many mentions of Trump's leaked Access Hollywood tape.
Tanden claimed that the "combo of WikiLeaks and fake news created insanity like pizzagate = more impact," but was quickly called out for what was described as a "manipulative" statement.
Pizzagate refers to the conspiracy theory that the Podesta emails revealed a pedophile ring within the Democratic establishment.
READ MORE: Man with assault rifle opens fire in DC pizzeria to 'investigate' Hillary Clinton conspiracy

Some tweeters pointed to hypocrisy in Tanden's claims, with one reminding the Clinton aide of Clinton's own feelings about influencing elections.
Another pointed to the resignation of Democratic National Committee chair Debbie Wasserman-Schultz after the DNC leaks in July revealed her bias towards Clinton over fellow Democratic presidential candidate Bernie Sanders.
READ MORE:Debbie Wasserman Schultz accidentally boasts about how she worked to make Clinton nominee (VIDEO)

READ MORE: Podesta files: Top 10 revelations from leaked Clinton campaign emails
Another person pointed to the ODNI report into Russia's alleged influence in the election which confirmed the authenticity of the WikiLeaks disclosures.
Many users called Tanden out for the Democratic Party and Clinton's role in losing the election, along with their subsequent inability to take responsibility for the loss.
Tanden wasn't entirely alone in her viewpoint though, with some Twitter users in agreement, claiming Russia was behind the WikiLeaks information.
Some social media users also posted embarrassing excerpts from the Podesta emails written by Tanden and others, which highlighted corruption and other reasons why Clinton may have lost the election. One refers to Qatar wishing to gift Bill Clinton $1 million for his birthday, and for "five minutes" of his time.
Despite the many mocking tweets aimed at Tanden, she tweeted the Task Force again hours later to request a reply to her earlier tweet.
You can share this story on social media: