Debbie Wasserman Schultz accidentally boasts about how she worked to make Clinton nominee (VIDEO)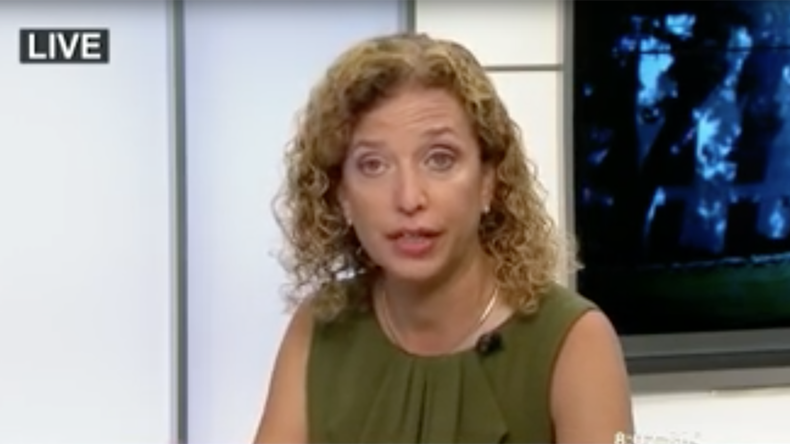 Debbie Wasserman-Schultz let the cat out of the bag when she boasted about how she worked to make Hillary Clinton the Democratic nominee when chair of the DNC.
The 'secret' was long revealed by e-mail leak in July, but Wasserman-Schultz denied it.
In a debate on Facing South Florida with Jim DeFede on Sunday she dropped the ball however.
Wasserman Schultz said she was "very proud of her tenure" at the DNC and that when she was a key part in getting Obama reelected in 2012.
"The work we did to prepare for Hillary Clinton, to be our nominee and then make sure that we could get her elected president, is absolutely critical to advancing the issues that are important," she said.
The former DNC chair was forced to step down from her position the night before the Democratic party convention after leaked emails showed the DNC favored Clinton over Vermont Senator Bernie Sanders during the primaries.
Wasserman-Schultz, who went straight from the DNC chair to a role in Clinton's campaign, was on Facing South Florida on Sunday to debate Tim Cavona who is challenging her South Florida House seat.
DeFede's first question to the congresswoman was about revelations in the Wikileaks DNC email leaks, including ones relating to Sanders' Jewish religion. Wasserman Schultz said she "absolutely condemned the exchange," to which DeFede asked whether the emails were part of a culture that she had created there.
When pressed to stick to the Wikileaks revelations, Wasserman Schultz described the hack as a "21st century Watergate."
"We were the victims of Russian espionage," she said. "Who stole private emails and our data and then gave them to the organization Wikileaks."
Wasserman Schultz was also asked about emails that suggest she used DNC resources for her own election, through monitoring of her rival.
Canova pointed to a "pattern" of media suppression within the emails, citing an email sent by Wasserman Schultz which asked Chuck Todd to get Morning Joe's Mika Brzezinski to issue an apology for accusing the DNC chair of treating Sanders unfairly.
Wasserman Schultz has also faced recent criticism for setting debate terms for the congressional seat that saw her face surging Canova on Sunday at 8:00am. The congresswoman has refused Cavona's suggestions of holding three debates before the August 30 primary.
This echoes accusations levied at the Wasserman-Schultz by Sanders supporters who said she purposely set Democratic primary debates at times when viewership was likely to be low, which they argued was an attempt to prevent Sanders' message steering votes away from Clinton. A charge which has gathered weight in light of the contents of the DNC email leak.
Canova is a first time candidate who has seen a surge in support, in part due to his endorsement of Sanders. Like the Vermont senator, Canova has raised millions in small donations.
You can share this story on social media: