Service jobs drive December growth, wages and unemployment up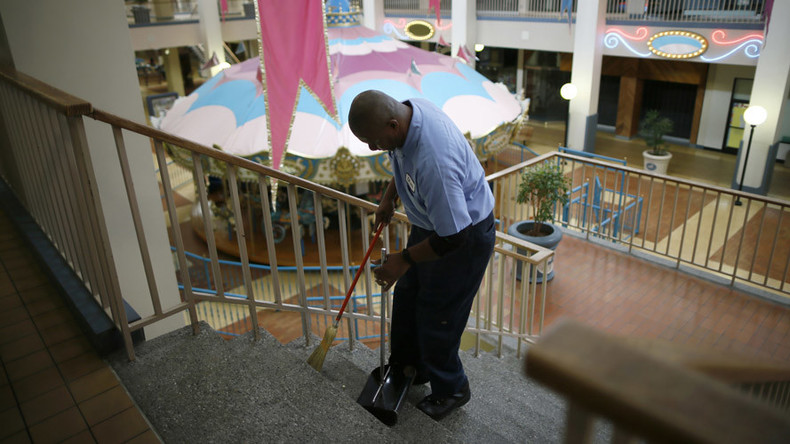 The final jobs report of the Obama era showed the 75th straight month of job growth, but fell short of expectations. Both wages and unemployment inched up, while a record number of Americans were out of the labor force altogether.
Some 156,000 new jobs were created in December, according to the report published by the Bureau of Labor Statistics (BLS) on Friday. Businesses accounted for 144,000 jobs, mostly in healthcare. Federal, state and local governments added 12,000 jobs.
While the increase is below the 180,000 expected by economists surveyed by Bloomberg, the November numbers were revised up from 178,000 to 204,000, the Department of Labor said.
Surprisingly, manufacturing added 17,000 jobs after several months of slashing payrolls. Retail had a rough month despite the holiday shopping season, however, adding just 6,000 jobs in December. Meanwhile, transportation and warehousing grew by 15,000 jobs, indicating a shift to online shopping.
Healthcare and social services accounted for 63,000 jobs. The leisure and hospitality industry added 24,000 jobs, mostly in the food service subsector. Within the administrative and waste services category, the need for services to buildings and dwellings created 11,000 jobs.
Average hourly wages rose by 10 cents to $26, for an annual increase of 2.9 percent.
The White House hailed the report as proof of President Barack Obama's economic success. Under Obama, the US economy added 11.3 million new jobs, according to CNN, and recorded job growth for 75 straight months.
On the other hand, critics pointed out the drop in temporary jobs and the uptick in overall unemployment and labor force participation. The number of temporary workers in December fell by 16,000.
Official unemployment was at 4.7 percent – up from 4.6 percent in November.
Counting the workers who are part-time purely for economic reasons, however, the rate goes up to 9.2 percent. More than 5.5 million Americans were working part-time in December, but said they would rather have full-time jobs.
The number of Americans who dropped out of the labor force altogether was estimated at 95.102 million, an all-time record. People who do not have a job and did not actively seek one over the past four weeks are considered by the BLS to be outside the labor force.
According to the Bureau of Labor Statistics, job growth slowed in 2016 to a monthly average of 180,000, down from 229,000 in 2015.
You can share this story on social media: